Tapas Bar Business Name Ideas:
| Rank | Business Name | Description |
| --- | --- | --- |
| 1. | Tapas Lane | Straightforward but elegant. Could even be used by a mobile restaurant. |
| 2. | Tapas Emporium | Implies that the establishment serves a wide array of dishes. |
| 3. | The Vault | Perfect for a tapas bar that serves delectable tapas that are made using well-kept, secret recipes. |
| 4. | Village Tapas | A simple, catchy name that's synonymous with authenticity. |
| 5. | Tapastry | A mashup of "tapas" and "pastry." Decorate your interior with Spanish tapestry and you'll be set! |
| 6. | Tasting Spain | A refined name that allows room for the tapas bar to expand down the line. |
| 7. | Tapa HQ | Sleek and catchy. Suggests that the restaurant serves top-notch dishes. |
| 8. | Fiery Tapas | A memorable, rather lighthearted name. Be sure to include some spicy options on your menu! |
| 9. | Tapas City | Foregrounds the business's specialty while retaining a classy feel. |
| 10. | Just Like Spain | Implies that you serve authentic tapas. Leaves space for you to expand into other Spanish dishes. |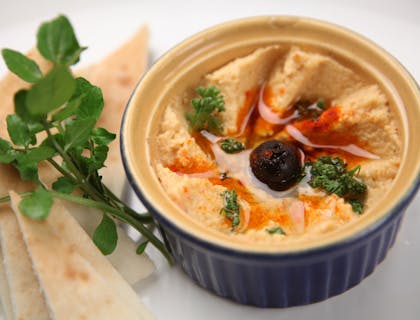 FAQs:
What are some catchy tapas bar business names?
Tapas Lane.
Village Tapas.
Fiery Tapas.
Tapas City.
Just Like Spain.
Where can I find a good tapas bar business name generator?
Try NameSnack — a free and intuitive business name generator that uses machine learning and instant domain search technology to generate scores of brandable business name ideas. Simply enter a few keywords and you'll have results within moments. If you see a tapas bar business name you love, consider purchasing the matching domain name before someone else snaps it up.
What are some fancy tapas bar business names?
Tapas Emporium.
The Vault.
Tapastry.
Tasting Spain.
Tapa HQ.
What are some well-known tapas bar business names?
Boqueria.
Buceo 95.
Estadio.
Sangria 46.
Manolo Tapas.
How do I choose a name for my tapas bar?
Choosing the perfect tapas bar name can be tough. We suggest that you start by gathering your existing name options, and then weeding out ones that seem ill-fitting. Next, ask potential clients — including local Spaniards — to share their thoughts on each idea. Finally, review your feedback and wait to see which of the top picks grows on you. Be sure to check that it's available.