Retina Specialist Business Name Ideas:
| Rank | Business Name | Description |
| --- | --- | --- |
| 1. | Retina Repair | The repeated "r" has a pleasant musical effect. A catchy, memorable name. |
| 2. | Good Vision | A no-frills name that tells patients exactly what they get: better vision. |
| 3. | Doctor Scan | A humorous, catchy name for a medical professional. Reads like a superhero name. |
| 4. | The Eye Doctor | A pleasant, welcoming name that sounds warmer than "retina specialist." |
| 5. | Eye Scan | "Scan" evokes a sense of precision. Suggests to patients you restore vision to perfect clarity. |
| 6. | Blur Specialist | A fun, memorable name that works well as a retina specialist business name. |
| 7. | Vision Engineer | "Engineer" suggests you provide scientific precision with your retina operations. |
| 8. | Crystal Scan | Communicates the feeling of being able to perceive the world with clarity. A good name. |
| 9. | Eye Consult | Just like a legal consult or business consult, your eyes deserves professional advice. |
| 10. | My Eye Doctor | "My" imparts a sense of familiarity on the patient. You are a doctor patients trust. |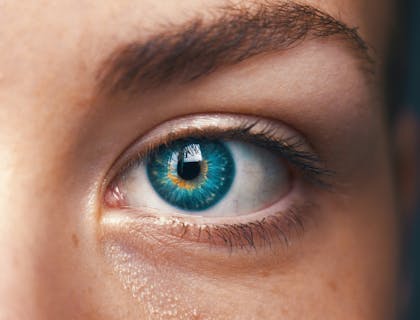 More Retina Specialist Business Name Ideas:
Good Retina Specialist Business Names:
AllClear Eyecare.
Clear-Eye-Up.
New Eyes Radiology.
Clear & Real Optics.
All for Eyes.
Catchy Retina Specialist Business Names:
Eyedea, LLC.
Clear Vision Optiks.
Eyin' it Up.
Remarkable Eyecare.
Eyecare to You.
Unique Retina Specialist Business Names:
Clear Image Eye Spa.
Doctor Retinal.
Iris Clear Sight.
BluePearl Retina.
Iris Green Vision.
Interesting Vision Company Names:
Royal Vision Center.
Blue Diamond Vision.
Rejuvenate Eye Care.
Diagnosed by Sight.
True Image Eye Care.
FAQs:
How do you come up with a retina specialist business name?
Brainstorm some potential names.
Think about words and concepts related to your retina specialist business, target audience, and mission statement.
Try combining words or use a business name generator.
Review and reflect on your list.
Gain feedback.
Secure the name.
Is there a retina specialist business name generator?
Yes, NameSnack is a free and intuitive tool that creates scores of brandable business names from a few input keywords.
What are some famous retina specialist business names?
LA Sight.
UCLA Stein Eye Institute.
Retina Specialists.
Weill Cornell Eye Associates.
NYC Retina.