Eyebrow Service Business Name Ideas:
| Rank | Business Name | Description |
| --- | --- | --- |
| 1. | Eyeglow | Associated with making the glow-up. Can be read as "I glow." |
| 2. | Arc Work | Sounds like "artwork," which is precisely what beautiful eyebrows should look like. |
| 3. | Eyekit | "Kit" gives the impression that these are eye-professionals who know their business. |
| 4. | Eyelight | Clever play on "highlight" and is associated with bright and beautiful eyes. |
| 5. | Trueye | A service so good people will think your eyebrows are natural. |
| 6. | Good Furrow | Furrowed eyebrows can be an attractive feature. We could all do with a good furrow. |
| 7. | Sunnyeye | "Sunny" is synonymous with brightness or bright eyes. Pairs well with a beauty brand. |
| 8. | Eyelogic | "Logic" creates the impression that eyebrow shaping is a science undertaken by experts. |
| 9. | Thread Activity | Suggests eyebrow work is similar to knitting or sewing. Works well as a beauty brand. |
| 10. | Shaggy Project | "Shaggy" eyebrows sound like the thing you want removed. The Shaggy Project beautifies eyebrows. |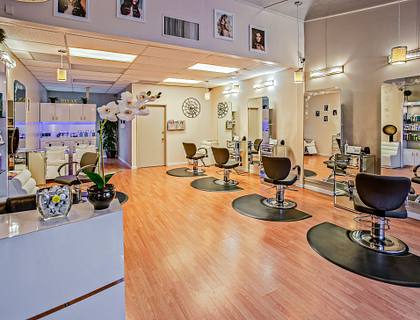 Unique and professional hair salon name ideas and how to come up with them.
FAQs:
What are some famous eyebrow service business names?
Glamour and Lashes.
New Face by Christine.
Himalayan Eyebrow Threading Salon.
Caress Permanent Makeup.
Brow Bandit.
How do I choose a eyebrow service business name?
Brainstorm some potential names.
Think about words and concepts related to your eyebrow service business, target audience, and mission statement.
Try combining words or use a business name generator.
Review and reflect on your list.
Gain feedback.
Check the name's availability.
Secure the name.
What are some cool eyebrow service business names?
Eyeglow.
Trueye.
Sunnyeye.
Eyelogic.
Arc Work.
What are some catchy eyebrow service business names?
Arc Work.
Eyekit.
Eyelight.
What are some unique eyebrow service business names?
Good Furrow.
Thread Activity.
Shaggy Project.
Where can I find a good eyebrow service business name generator?
Try NameSnack — a free and intuitive business name generator that uses machine learning and instant domain search technology to generate scores of brandable business name ideas. Simply enter a few keywords and you'll have results within moments. If you see an eyebrow service business name you love, consider purchasing the matching domain name before someone else snaps it up.