Editing Business Name Ideas:
| Rank | Business Name | Description |
| --- | --- | --- |
| 1. | Editry | Simple & unique. The perfect addition to a mobile app with good editing capabilities and features. |
| 2. | Audio Force | A strong name that sounds trustworthy. Best suited for those who specialize in audio editing. |
| 3. | Script n' Strike | A playful but strategic name that references the process of editors striking out written work. |
| 4. | The Alpha Edit | A strong, strategic name that labels your editing business as a leader in the field. |
| 5. | Page Work | Offers plenty of business development possibilities. This name would shine in blue & black branding. |
| 6. | Tune Assistant | This intriguing name could really pop if the words were combined and included a funny tittle. |
| 7. | Publish Up! | Sounds professional but still manages to look fun when paired with an exclamation mark. |
| 8. | Vedeoly | Eye-catching name that will entice clients. Good for a video editing app. Think red & blue branding. |
| 9. | The Fresh Edit | "Fresh" hints that your editing techniques are on trend. Provides room for business expansion. |
| 10. | FX-Song | Captivating choice. Looks modern & inventive. "FX" means "fix," making it ideal for an editing app. |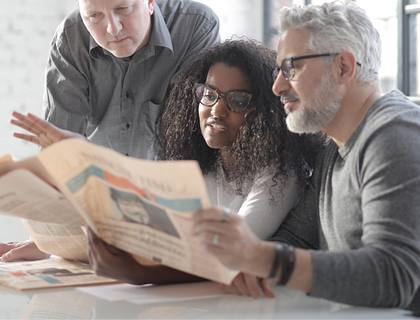 More Editing Business Name Ideas:
Unique Video Editing Business Names:
Control & Run.
SmartRevise.
The Alter Crew.
CorrectMyClip.
TakeCTRL.
Good Instagram Editing Brand Names:
CropLoad Editing.
New Look Rewrite.
Blankspot Co.
Editing Machine.
Prime Revize.
Memorable Editing Company Names:
Speed 'o Light Edits.
FixUp Club.
HandzOn Revisions.
Top2Toe Editing.
Ezy Code.
Cool Editing Business Names:
Taken Stories.
The Short Pen.
My Digital Cutz.
Ink & Erase.
Snapcrop Studio.
Great Editing Mobile App Names:
PixlIt.
Cut2Pro.
My Creative Image.
The Tint Art.
UZoom Editing.
Clever Editing Business Names:
The Tonechange.
Story Snapz.
OwlEdit Group.
WriteNow Editing.
Breeze Ink.
Creative Editing Company Names:
Papers & Quill.
EdgeTrim.
The Edit Express.
First&Second Images.
Mark It Up.
FAQs:
How do I create good editing names for my business?
Consider the types of editing services you'll offer, your brand, and the target market.
Comb through your business plan to identify keywords and feed them to an business name generator.
Use online polls and surveys.
Ask trusted peers for feedback.
Perform a name availability search in the state.
Choose a suitable name and register it.