Print Media Business Name Ideas:
| Rank | Business Name | Description |
| --- | --- | --- |
| 1. | Abuzz Print | A fun and catchy name. Works well for a lifestyle magazine featuring all the latest trendy spots. |
| 2. | Print Mainstream | Best suited for a diverse print media company that focuses on mainstream content and news stories. |
| 3. | Press Report | A professional name that establishes your media business as a credible source for quality content. |
| 4. | Mainstream Press | This name sounds sophisticated and credible, defining your business as experts on mainstream media. |
| 5. | Print Broadcast | A simple and straightforward name that clearly conveys what your business does. |
| 6. | My Savvy Press | A personalized name that's ideal for media outlets that provide insights on business solutions. |
| 7. | The Data Media | Perfect for a media business that specializes in articles about the latest advances in technology. |
| 8. | Savvy Printing | A trendy and memorable name that is great for logo design and slogan opportunities. |
| 9. | Fine Media | A modest but memorable name that is sure to grab customers' attention. |
| 10. | Abuzz Edition | This name works well for media houses that print exclusive or special editions about niche topics. |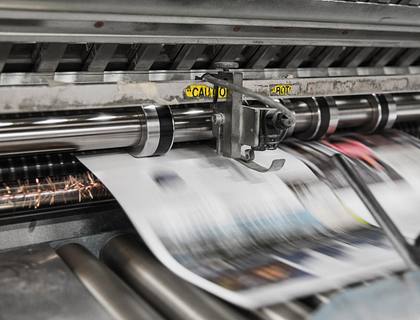 FAQs:
What are some good print media names?
Press Report.
Mainstream Press.
Fine Media.
Print Broadcast.
What is a cool name for a print media business?
Print Mainstream.
My Savvy Press.
Savvy Printing.
The Data Media.
What should I name my print media business?
Abuzz Print.
Press Report.
Print Broadcast.
My Savvy Press.
How do I choose a name for my print media business?
Review your business mission statement, marketing plan, and brand image.
Identify keywords that best describe your print media business.
Use a business name generator for inspiration.
Test your name ideas out with peers and customers.
Conduct a name availability search.
Pick a name.
Register your chosen name with the state.