Tarot Business Name Ideas:
| Rank | Business Name | Description |
| --- | --- | --- |
| 1. | Third Tarot | A reference to the "third eye chakra," a popular concept in divination. |
| 2. | The Eye Indigo | A mystical name. The "eye" indicates clairvoyance and "indigo" represents energy in tarot readings. |
| 3. | Soothe Mind | Reminiscent of "soothsayer," clients often visit psychics to gain peace of mind. |
| 4. | The Card Soul | A solid name. May attract clients who require spiritual cleansing. "Card" is a reference to tarot. |
| 5. | Eternal Indigo | A spiritual, yet trendy name that rolls off the tongue. Suitable for a modern tarot studio. |
| 6. | The Elemental Blue | Great for a tarot reading service that also uses crystals ("elements") in the readings. |
| 7. | Heal Alchemy | May attract clients who require spiritual "healing." Could also be a reference to alchemical tarot. |
| 8. | Soothe Angel | A reference to "soothsayer." "Angel" may reassure anyone who feels tarot readings are unsafe. |
| 9. | Emotional Medium | This name may attract clients who need relationship advice or emotional guidance. |
| 10. | Go Mystical | A modern tarot card reading business name. Think readings via phone and Skype. "Go" suggests efficient, hassle-free service. |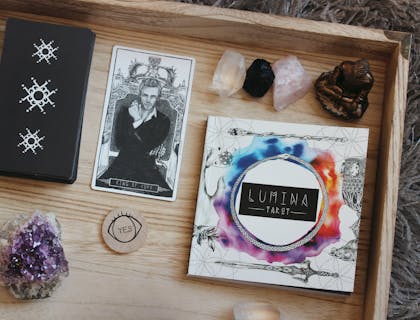 More Tarot Business Name Ideas:
Unique Tarot Card Business Names:
Mind & Soul Insight.
Honey Tarot.
Seen by Angels.
Soul Force Readings.
The Tarot Card Shop.
Cool Tarot Card Reading Business Names:
MysticaLove.
My Studio Sense.
Paranormal Divine.
Heal Candle.
Sense Mystic.
Memorable Tarot Reading Business Names:
The Palm Tarot.
Whispers & Wisdom.
Spirits of Insight.
The Soul Eye.
Mind Over Mystical.
Mysterious Tarot Reading Business Names:
The Sage Emporium.
Illusion Tarot.
Sight & Soul.
Elemental Heartwork.
My Soul's Reading.
Good Tarot Reader Business Names:
The Soul's Touch.
Ajax Moon Seers.
Divinity in You.
CrystalMindSpirit.
Angelfire Reading.
Creative Fortune-Teller Business Names:
The Arts in Spirits.
Spirit, Wax, & Tarot.
Silverstream Tarot.
Merry Winds Readings.
Witchy Willow Arts.
Fun Fortune-Teller Shop Names:
Now & Beyond.
Vision Temple.
Many Lives House.
Future Perfect.
Mind the Tarot.
Interesting Tarot Business Names:
Spirit Soul Reading.
My Occult Connection.
Illusion Spirit.
Crystal Touchings.
Soul's Luckery.
FAQs:
How do I come up with some tarot business name ideas?
Conduct research and look at existing names of tarot and psychic reading businesses.
Consider your clientele and the tools you'll use in your readings.
Write down any relevant keywords and use them to come up with name ideas.
Feed some keywords into a business name generator.
Share your top names with others.
Check if your preferred business name is available.
What are some names of established tarot businesses?
Physic Readings by Ashley.
Crystal Energy Readings.
The New York Medium.
Song of Sparrows.
Blue June Tarot.