Spiritual Shop Business Name Ideas:
| Rank | Business Name | Description |
| --- | --- | --- |
| 1. | The Mystic Brew | "Brew" will tell customers that you cater to a wide variety of metaphysical and spiritual choices. |
| 2. | Wiccan in a New Age | A fun name idea for a spiritual shop that specializes in Wiccan ritualistic tools and books. |
| 3. | Quartz & Smudges | This catchy name idea uses two ritualistic elements to give a sense of purity and spirituality. |
| 4. | The Sage Coven | "Sage" is a wonderful herb for cleansing a space and promoting wisdom and healing. |
| 5. | My Pure Smudge | A cool name idea for a spiritual shop that uses the image of a smudge stick for purity. |
| 6. | Druid's Hope | A hopeful, beautiful name idea with Celtic symbolism for those who practice paganism or druidry. |
| 7. | Palmistry & Witchcraft | This beautiful name idea could work for a spiritual shop that offers psychic readings. |
| 8. | Love Arcanum | A simple, elegant name idea for a spiritual shop. "Arcanum" is mysterious or specialized knowledge. |
| 9. | Blessed Spirituality | This name idea takes inspiration from the Wiccan prayer "Blessed be." |
| 10. | Scented Miracles | A great name idea for a spiritual shop that offers ritualistic tools and candles. |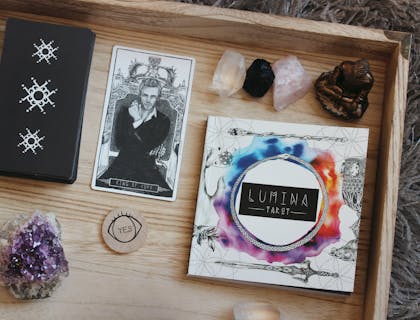 More Spiritual Shop Business Name Ideas:
Unique Spiritual Business Names:
The Lotus Mystical.
Elements of the Way.
Mindful Mystic Shop.
Bowl of Wonders.
The Shaman Center.
Catchy Spiritual Store Names:
Sorcery of Emotions.
Magic Hauntings.
The Lotus Sage.
Spirit of Silver.
Hand & Stone Healing.
Cool Spiritual Shop Business Names:
The Mystic's Elixir.
Blue Spirit Magic.
Serenity Nectar.
Alchemy by Hope.
Aura's Embrace.
Good Spiritual Healing Business Names:
Namaste Soul Healing.
Chakras Healing Arts.
Crystals of Bliss.
Mystic Hands Healing.
Hand of Harmony.
Memorable Metaphysical Shop Names:
The Spirit of Luck.
Divine Clairvoyance.
Culture of Crystals.
Mysticusium.
Anima Magicus.
Moon Spiritual Business Names:
Pegasus Moon Studio.
Lunar Healing Spa.
Moonlight Immortals.
The Moon & its Art.
Moon's Embrace.
FAQs:
How do I choose a spiritual shop business name?
Research the industry and your top competitors.
Review your business plan and ideal customer profile.
Compile a list of keywords.
Combine your keywords manually or use a business name generator to create name ideas.
Shortlist your favorite names and check their availability.
Ask for feedback on your top choices.
What are some famous spiritual shop names?
Namaste Bookshop.
Aum Shanti Bookshop & Psychic Tarot Card Readings.
Crystals Garden.
Enchantments.
Modern Mystic Shop.
House of Intuition.
Spellbound Sky.