Alternative Healing Center Name Ideas:
| Rank | Business Name | Description |
| --- | --- | --- |
| 1. | RejuveNation | Playfully covers a wide range of potential alternative healing methods. |
| 2. | Happiness Healing | Gives clients a sense of what you do and tells them about the experience they'll have. |
| 3. | THC: The Healing Center | A straightforward name that speaks volumes about your alternative practices. |
| 4. | Wholesome Alternative Treatments | Foregrounds your business's approach, which could help attract clients. |
| 5. | Different Approaches | Wholesome and descriptive, this name is perfect for those who want to be noticed. |
| 6. | The Spirit Factor | Lets clients know that your business is about more than just physical healing. |
| 7. | New Beginnings | Highlights what your clients will receive when they use your services and products. |
| 8. | The Joy Center | Combining a positive feeling with your brand, this name will capture potential clients' attention. |
| 9. | Revive and Repair | Encapsulates the two central goals of an alternative healing practice. |
| 10. | Spiritual Science | Alliterative and descriptive, the inclusion of "Science" offers a sense of credibility. |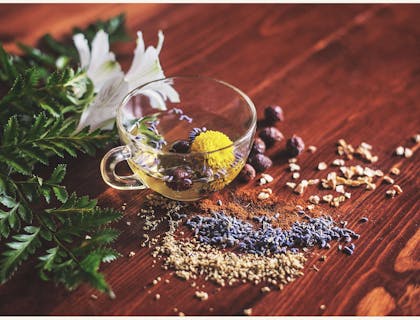 More Alternative Healing Center Business Name Ideas:
Catchy Alternative Healing Center Business Names:
My Herbal Healer.
Feels Of Balance.
Spirits 4 Life.
Alternative Alignments.
Harmony Healing Club.
Cool Alternative Healing Center Business Names:
The Green Peace Center.
Real Healing Life.
State Of Wellbeing.
Soul Energy Retreat.
Life Renewal Energy.
Unique Alternative Health Center Business Names:
The Shaman's Retreat.
Evolution Chakra.
Ayurviva Healing.
Nothing But Nature Center.
Live In Light Healing.
FAQs:
How do I name my alternative healing center?
Find keywords that focus on your offerings. Remember to include gentle-sounding options.
Find synonyms and alternative spelling for your keywords.
Combine your keywords manually.
Use a business name generator to discover more name ideas.
Ask friends and family to share their thoughts on each name.
Choose the best name.
How do I know if my alternative healing center's name is good?
Check your business name with friends, family, and likely customers. Make sure it's easy to remember, pronounce, and gives a sense of what makes your alternative healing center special.
What are some real-life alternative healing businesses?
Holisticism.
Wellness Official.
Conscious Healing.
Center for Natural Healing.
Amita Holistic Healing Center.