Energy Healing Business Name Ideas:
| Rank | Business Name | Description |
| --- | --- | --- |
| 1. | The Reiki Therapy Center | If your business focuses on Reiki therapy, this name advertises your services well. |
| 2. | Higher Spirit Energy Healing | "Higher spirit" reflects a goal or ideal clients aspire to when seeking your services. |
| 3. | The Pranic Healing Facility | If you mainly perform Pranic healing. this name is a good way to let clients know. |
| 4. | Wholesome Energy Therapy | "Wholesome" is a positive feature that many people ascribe to energy healing. |
| 5. | The Crystal Healing Helpers | "Helpers" reminds clients that your staff are there to happily assist with healing. |
| 6. | Inner Peace Crystal Center | "Inner peace" is a goal for many clients who look for energy healing services. |
| 7. | My Energy Healing Professional | "Professional" gives clients confidence in your abilities. |
| 8. | The Institute of Healing | "Institute" makes your business sound more legitimate and established. |
| 9. | Go Natural Reiki Healing | "Go natural" appeals to clients looking more holistic healing methods. |
| 10. | Healing Reiki Institute | This name makes your Reiki healing business sound professional. |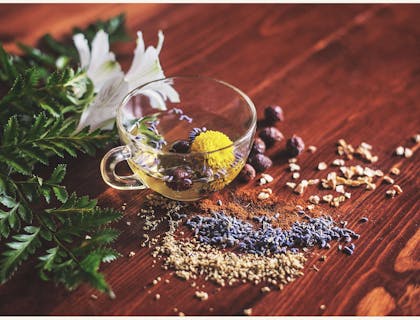 More Energy Healing Business Name Ideas:
Cool Energy Healing Business Names:
Energy from Within.
Purified Life.
Journey to Wellness.
Happy Healings
Crystal Connections.
Memorable Energy Healing Business Names:
A Soulful Renewal.
Inner Ways.
Soul Crystal Therapy.
Mindful Meaning.
Oasis Healing.
Great Energy Healing Business Names:
Let's Heal.
A Healing Tree.
Health Life Wellness.
All About Healing.
Body & Soul Co.
Examples of Chakra Business Names:
Zen Peace Healing.
Inner Life Wellness.
Kundalini Healing.
Harmony in Action.
I Heart Healing.
FAQs:
How do I come up with energy healing business names?
Define the character of your business and list keywords.
Look for synonyms and word associations.
Combine words to create name ideas.
Use a business name generator to create name ideas.
Review your list and get feedback.
Make a choice.
Secure the name.
How do I come up with a catchy energy healing business name?
Use rhyme.
Use short syllables.
Use alliteration.
Repeat sounds.
Use words that have a healing connection.
What are some famous energy healing business names?
Innergistic.
Center for Energy Healing.
Imagine Energy Healing w/ Breana Clark.
Alternative Medicine, Energy Healing.
Chicago Reiki Therapist, Transformative Energy Healing.