Movie Business Name Ideas:
| Rank | Business Name | Description |
| --- | --- | --- |
| 1. | Charmbox Pictures | The perfect name for an independent film company that prides itself on telling simple, beautiful stories. "Charmbox" may also be another name for a television, making it a great choice for an online streaming service. With the right color scheme and logo, this could be an animation school for kids. |
| 2. | Enchanted Reel | A name steeped in nostalgia. For many filmmakers, nothing is quite as good as shooting with real film reel. Even if your production company uses digital filming, a name like this will still tell clients you value traditional methods. Also a great choice for a film course dedicated to reel education. |
| 3. | The Storyline Vault | A highly descriptive name that implies your stories are so ingenious they need to be locked away in a vault like treasure. A fantastic name for a freelance marketplace where top-notch screenwriters can be hired. Also works for a ghostwriting business or as the name of a scriptwriting course. |
| 4. | Starlight Poppies | An edgy name for a production company specializing in horrors, thrillers, and science fiction films. "Poppies" may be a reference to hallucinogens that may assist with the creative process of filmmaking. Add an extra word or two to tell potential clients more about the work you do. |
| 5. | The Velvet Stage | A name that hints at the time-honored tradition of theater acting, evoking images of heavy velvet curtains covering a magnificent stage. This makes a memorable and unique choice for an acting school that teaches students the basics before they enter the film industry. |
| 6. | Dreamscape Vision | What are movies but visual renditions of dreams? This name screams creativity and innovation, and it's likely to attract actors, producers, directors, and other film staff who are keen to bring their visions to life. "Dreamscape" also hints at an escape from reality — something filmmakers create. |
| 7. | Dreamful Oasis | A unique name that calls to mind the kind of paradise we're likely to see in our dreams. Imagine a studio that's so isolated and silent you can create your work uninterrupted. A name like this will likely attract those who produce their best work in relaxed and tranquil settings. |
| 8. | Smokey Popcorn | A charming name for a vintage cinema known for its legendary concession stand where a variety of gourmet snacks — including popcorn — can be purchased. The fact that this movie business references food in its name lets the audience know they can expect premium snacks and a luxury viewing experience. |
| 9. | Pulp and Wax Studios | "Pulp and Wax" may hint at a company that produces movie props or specializes in SFX makeup. It makes a catchy name for an online marketplace where artists specializing in special effects makeup can be found and hired for projects. Also works great for a school where the art of SFX makeup is taught. |
| 10. | Golden Age Encore | Catchy, memorable, and timeless, this name may be a reference to films made using tried and tested methods such as the track-in, dutch tilt, and telephoto action shot. "Golden Age" may be an indication of a production company that creates films likely to yield huge profits. |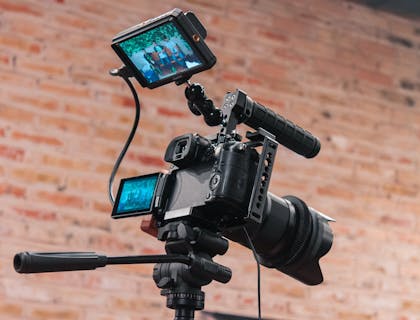 More Movie Business Name Ideas:
Good Movie Company Names:
Magic Box Productions.
Velvet Carpet.
5 Studio.
Gilded Age.
The 7th Art.
Catchy Movie Business Names:
Our Story Line.
Movie Clappers.
Popcorn Cinema.
Big Screen Films.
Marilyn Entertainment.
Fancy Movie Business Names:
The Reel.
Waking Dreamers.
Stunned Cinema.
Fine Art Movie House.
Blue Bell Pictures.
FAQs:
How do I choose a name for my movie business?
Think about the type of movies you'd like to make, the services you offer, or the products you sell, and write down associated keywords.
Do some research, focusing on movie references that resonate with your target audience.
Examine the names of similar businesses.
Combine your keywords to form names.
Check if your shortlisted names are available.
Choose the best name and register it.
Is there a movie company name generator?
Yes, NameSnack is a free tool that uses machine learning and instant domain search technology to generate scores of brandable business name ideas.
What are some popular movie company names?
Disney.
Warner Bros. Entertainment Inc.
Universal.
Sony.
20th Century Fox.
Paramount.
Lionsgate.
DreamWorks.