Videographer Business Name Ideas:
| Rank | Business Name | Description |
| --- | --- | --- |
| 1. | Filmance | Rolls off the tongue. A clever nod to the romance of film making. |
| 2. | Film Layer | "Layer" suggests a collaborative approach to videography. There are many layers to your work |
| 3. | Film Verge | A name for a videography business with a large team and collaborative effort. |
| 4. | One Documentarian | A suitable name for videographers who specialize in documentary making. |
| 5. | Filmemory | A clever play on film memory and the memories captured on film. |
| 6. | Momentedit | Suggests you see videography as the art of creating moments and that you take pride in your work. |
| 7. | Storyfilm | You don't make videos. You tell stories. An excellent videography business name. |
| 8. | Tape Shift | Fun to say and suitable to a professional videography business. |
| 9. | Film Span | "Span" suggests an experienced videographer with a history of excellent work. |
| 10. | The Video Star | The star of video making or the videographer that makes you the star. A fun, creative name. |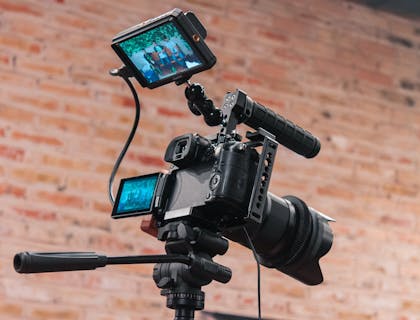 More Videographer Business Name Ideas:
Instagram Videography Business Names:
Video Port.
The Visual Explorer.
Time Studios.
Wildest Snaps.
The Story Biz.
Cool Videographer Company Names:
Super Shots.
Cinemagic Visions.
Xtra Videographer.
The Magic Shot.
M Videos.
Catchy Videographer Business Names:
VidFire.
Pulse Pictures.
Empire VP.
Xtreme Media.
FutureFilm.
Great Videography Business Names:
Pro Shot Studios.
Bravo Videography.
Film Logic.
10 Doors Studios.
Empire Videography.
Inventive Videographer Names:
Cellular Dreams.
Studio Selectors.
Slide2 Survive.
Final Reel.
The Cut Jump.
FAQs:
How do I name my videography company?
Brainstorm some potential names.
Think about words and concepts related to your business, target audience and mission statement.
Try combining words or use a business name generator.
Review and reflect on your list.
Gain feedback.
Secure the name.
How do I come up with a catchy videographer business name?
What are some exisiting videography business names?
Image Media Lab.
Visual Gnome.
Indigo Productions.
True Film Production.
Melty Cone.