Photography Business Name Ideas:
| Rank | Business Name | Description |
| --- | --- | --- |
| 1. | Life Shots | For a photography business focused on life events such as weddings or births. |
| 2. | A Pretty Picture | A memorable name for a formal or casual portrait studio. The alliteration on the "P" makes this a catchy name idea. |
| 3. | Quick Takes | Fast, easy photography. Good for a business that specializes in family portraits. |
| 4. | Happy Captures | Great for a child or family-focused photography business. |
| 5. | Wedding Focused | Perfect if you plan to focus your lens on wedding photography. |
| 6. | The Light Lens | For a photography studio with a light touch that gets candid shots. |
| 7. | Mega Pixel Events | For an event photography business that specializes in digital photography. |
| 8. | The Big Picture | Could work for a variety of photography businesses. Easy to remember. |
| 9. | Brilliant Images | For a photography business that offers a wide range of services. This name promises great value. |
| 10. | Attractive Focus | Ideal for a portrait studio that promises picture-perfect images. |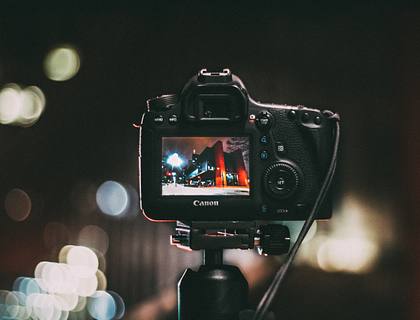 More Photography Business Name Ideas:
Cute Photography Business Names:
Memory Makers.
Pixy Focus.
Thousand Word Pics.
Wish Snapshots.
Cherry Photo Studio.
Elegant Photography Business Names:
Wild Blue Vision.
Luxx Snapshots.
Focus Pics Studio.
Apex Portraits.
Photos & Memories.
Fashion Photography Business Names:
Snapshots 365.
FramaTron.
Glamour Imaging.
Capture Me, Please.
New Eye Focus.
Travel Photography Business Names:
Gallop Images.
Lucky's Picture.
Escape Photoz.
Pixtraction.
Capture Ya.
Good Photography Business Names:
CelebrationLens.
Picture It Snaps.
Focus Pixelz.
The Picture Shoppe.
A-1 Pics & More.
Catchy Photography Business Names:
Picture Me Pretty.
Twin City Camera.
Zoom Into You.
Snap Snap Photo.
Pix4ever.
Clever Photography Business Names:
Snap a Picture.
The Camera Shutter.
Zoom Into This.
The Image Booth.
Pics 'n' Memories.
Cool Photography Business Names:
Luxx Photo Lab.
Snaps Photo Studio.
The Camera Snob.
Eyeworks Photo Co.
Elements of Focus.
Creative Photography Company Names:
Nova's Snapshots.
Snapzession.
Dream Art Portraits.
PIC Photo & Video.
Jumping Clicks.
Funny Photography Business Names:
Let's Get Exposed.
Shutter Up.
Oh Shoot!
Snap It Like It's Hot.
Frame Grandpa.
Cool Food Photography Business Names:
The Photo Tastee.
Yummy Studio.
The Food Feature.
Capture 'n' Chow.
Art of Food.
Unique Photography Business Names:
Portraitary.
Snapcapture.
EveryOptic.
Snaplens.
Shutterfilm.
FAQs:
Should I name my photography business after myself?
Many photography businesses are owned and operated by just one person, so it might make sense to use your name as part of the business name, particularly if you want to build your reputation locally.
How do I choose a photography business name?
Research the industry and create a list of keywords.
Review your business plan and ideal customer profile and add related keywords to your list.
Combine your keywords manually or use a business name generator to come up with name ideas.
Go over your list of name options and pick your favorites.
Ask for feedback and check availability before choosing your name.
Register your chosen business name with your state.
What are some famous photography business names?
Art Chick Photography.
Central Color.
Nikreations.
Junction Eleven.
Shutter Point Photography.
Scrumptious Food Photography.