Beach Bar Name Ideas:
| Rank | Beach Bar | Description |
| --- | --- | --- |
| 1. | After Hours Beach Bar | After hours you kick off your shoes, put your feet in the sand, and sip on a drink. See the picture? |
| 2. | Fun in the Sun | This bar will no doubt offer fun times in the sun. With a fun name that rhymes, who can doubt it? |
| 3. | Surf Time | This will certainly speak to surfers and those wanting to watch them showcase their skills. |
| 4. | Ocean Breeze Bar | The name oozes relaxation and has a bit of a flair to it. This will be a more formal beach bar. |
| 5. | No Fighting, just Kiting | Invites families with promises of spectacular sights and fun days out. No family fights here. |
| 6. | Casablanca | Planning a little white shack on the beach? Then this is a great name with some Mediterranean flair. |
| 7. | Under the Palms | Is your place surrounded by palm trees? Why not use this fact in this simple, yet memorable name? |
| 8. | The Happy Place | The name says everything about the emotive state of the clients. It's familiar and easy to remember. |
| 9. | C Square | The wordplay on the sea is memorable and refers to the piece of seaside the bar is built on. |
| 10. | Sandy Shores | The alliteration in the name, makes it roll off the tongue nicely. It also says what awaits clients. |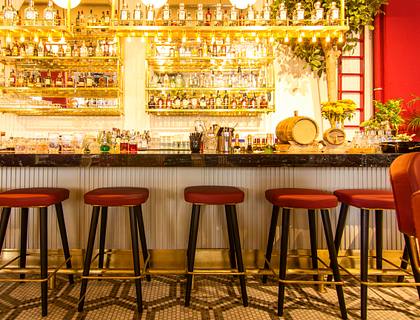 Get detailed info on location, equipment, investment cost, licenses, employees, and more in our step-by-step guide to opening a bar.
FAQs:
What are some good names for my beach bar?
After Hours Beach Bar.
Surf Time.
Casablanca.
Ocean Breeze Bar.
Sandy Shores.
What are some beach-themed names for a beach bar?
Under the Palms.
Fun in the Sun.
No Fighting, Just Kiting.
The Happy Place.
C Square.
Is there a site that can help me with a name and a logo for my beach bar?
Yes, if you use NameSnack, not only will you find suitable beachy names for your bar, but it will also help you to design a logo and to register a domain for your website. It is 100% free and uses machine learning to generate possible names. Just type in a few keywords and wait a few seconds for a list of name options.
What are some well-known beach bar names?
Sunset Beach Bar.
The Reef.
The Beach Shack.
The Deck.
The Beach Bar.
What should I avoid when deciding on a name for my beach bar?
Avoid using names that have been trademarked, for example, Hooters. It can cause confusion as patrons might think it is a franchise.
Registered products, such as Coca-Cola or Heineken in names, can lead to legal action against you.
Natural disasters are very sensitive topics, especially if they are common in your area. Therefore, try not to use names like Tornado, or Tsunami.
You don't want words with negative connotations such as burn-out and downfall associated with your beach bar. It is supposed to be a happy place.
If there are other beach bars near you, try not to use a name similar to them.