Waste Management Business Name Ideas:
| Rank | Business Name | Description |
| --- | --- | --- |
| 1. | The Waste Not Co. | Based on the popular proverb "waste not, want not," this name evokes a sense of responsibility and sustainability. The name is highly versatile and would suit a range of waste management businesses. "Co." adds a level of sophistication and professionalism. |
| 2. | CleanStream Management | "CleanStream" is a catchy word that conjures an image of clear rivers, suggesting that your company specializes in liquid waste removals. It also evokes a sense of efficiency and workflow, highlighting your expertise and effectiveness in waste management. |
| 3. | Sustainable Scrap Services | The triple alliteration in this name makes it super catchy. "Scrap" hints at metals, but encompasses a range of waste porducts, keeping the name versatile. "Sustainable" suggests recycling and highlights the eco-friendly nature of your services. |
| 4. | ResponsiRemovals | A quirky name that combines "responsible" and "removals" to create a highly memorable brand identity for your waste management business. "Removals" highlights the convenience of your service, while "Responsi" hints at your business's ethics and sustainable practices. |
| 5. | Biowaste Management Services | "Biowaste" is an abbreviated term for "biodegradable waste" and encompasses a broad range of organic matter. It also adds a level of technicality and sophistication to the name, capturing the nature of your business and reassuring customers of your competence and trustworthiness. |
| 6. | Dispose Industrial | Short and clear while remaining versatile. "Dispose" clearly captures the nature of your waste services. "Industrial" adds weight to the name and highlights your business's niche as specialists in industrial waste management. |
| 7. | The Waste Maestros | "Maestros" is traditionally used as a term to describe distinguished musicians, but can be used to describe any esteemed professional, adding sophistication to the name. It also conveys notions of experience and expertise, while remaining quirky and slightly tongue in cheek. |
| 8. | Gamma Waste Management | "Gamma" could refer to gamma radiation, making this a great name for a hazardous waste management company. On a more conceptual level, "Gamma" is the third letter of the Greek alphabet, and could refer to your services in solid, liquid, and gaseous waste management. |
| 9. | Ready Waste Removals | Simple and to the point, this name clearly captures the nature of your business. "Ready" adds a level of preparedness and poise, highlighting qualities of organization, enthusiasm, and efficiency. |
| 10. | Clean & Tidy Waste Services | "Clean & Tidy" adds a colloquial dimension to this name, making it personable and a great option for a smaller waste management company. It evokes images of pristine streets and neat neighbourhoods, while the connecting ampersand adds sophistication to the name. |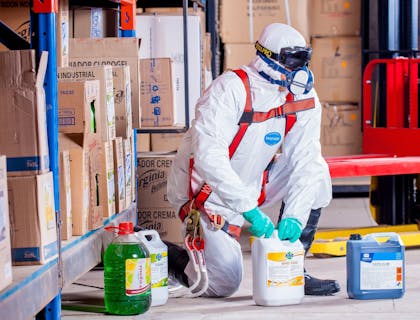 More Waste Management Business Name Ideas:
Great Waste Management Business Names:
Industrial Bin.
StorPerfect.
Master Recyclers.
Waste Hunters.
Cleancity Pro.
Catchy Waste Management Business Names:
Waste Logistic.
Junk Transfer.
e-Waste Ltd.
Recycling Consciousness.
Junk Away Office.
Cool Waste Management Business Names:
Waste Bunker.
Junk it Out!
Waste Guru.
Garbage Garage.
Zero Waste Zone.
FAQs:
How do you name a waste management company?
Consider the type of waste management that your company specializes in.
Do some research and draw inspiration from the names of existing waste management companies.
Make a list of keywords that you would like to incorporate into your company name.
Use a business name generator to combine these keywords and create unique company names.
Pick your favorite company name.
Check if your preferred name is available with the state.
What are the top waste management companies?
Waste Management, Inc.
Veolia Environmental Services.
Republic Services, Inc.
Waste Connections, Inc.
Stericycle, Inc.