Key Information
| | |
| --- | --- |
| Legal Name | South Dakota Secretary of State |
| Address | 215 E. Prospect Ave., Pierre, SD 57501 |
| Email | |
| Telephone | |
| Website | |
How to Do a South Dakota Business Search: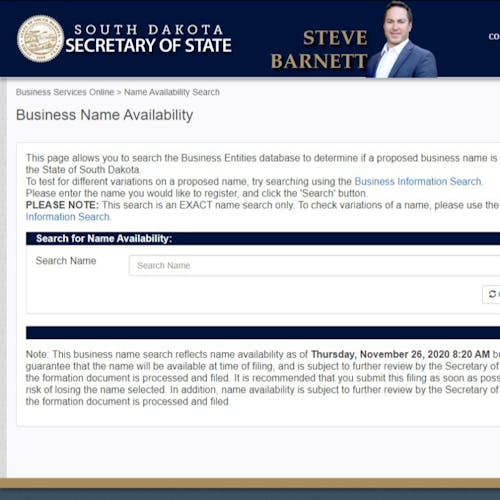 Before you can apply for a name reservation or file formation documents, you will need to ensure that your desired business name is available by performing business entity and trademark searches using the applicable online tools.
1.
Conduct a South Dakota business search online.
1.1
Go to the South Dakota SOS website.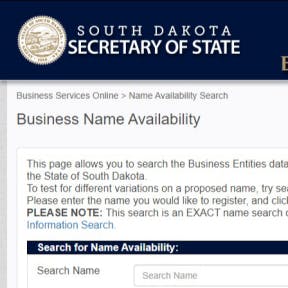 The SOS offers a business name availability tool that allows you to search the Business Entities database to determine if your desired business name is available to use.
It's important to note that this is a preliminary search. The SOS must receive and process your entity formation documents before you can adopt the name.
1.2
Use the online tool to search your business name.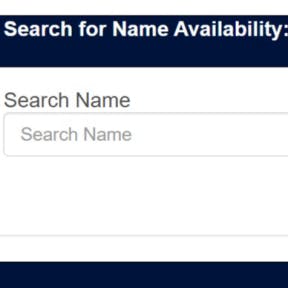 Simply enter your preferred business name in the "Search Name" field. You will need to enter the exact business name that you plan to use, excluding any identifiers such as "LLC" or "L.L.C.," as well as any punctuation. Then, click "Search."
If you want to search for variations of your proposed name to be sure that it is available, you should conduct a second check using the Business Information Search tool. This tool enables you to search the first word of your preferred name or a general phrase, such as "plumbing services," by selecting the "Starts With" or "Contains" filter.
To complete the search, enter your preferred name in the "Search Name" field and select the "Active Entities Only" checkbox if you wish to search operational entities only. If not, leave the box unchecked to search both active and inactive entities. Lastly, click "Search."
Be sure to search alternate spellings and similar names to ensure that your preferred business name does not clash with those of other business entities in the database.
1.3
View the search results.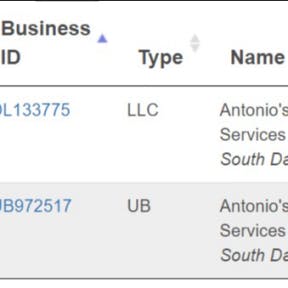 If the database does not yield any results, your name is most likely available, but it is advisable to conduct trademark searches as well.
Regardless of which tool(s) you used, if your search yields results, these will be arranged alphabetically. You can click on the business IDs in the first column to view more information about each entity.
2.
Additional South Dakota business search steps.
2.1
Perform trademark searches.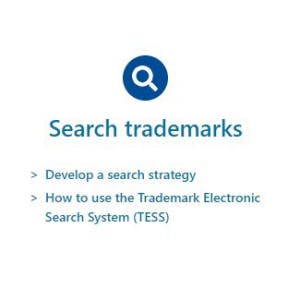 Trademark searches are advisable as the business search outlined above is limited to business names registered with the state and does not include state or federal trademarks.
In order to access the state's Trademark/Service Mark Registration Database, you will need to complete and submit an application form to the SOS to become a subscriber. Once your application is approved, you will be granted access to the database. Note that there is a first-time fee of $500.00. Thereafter, the quarterly update fee is $125.00 and the quarterly images fee is $500.00.
It is also advisable to search the United States Patent and Trademark Office's (USPTO) trademark database to check for registered federal trademarks. This is completely free.
2.2
File a name reservation.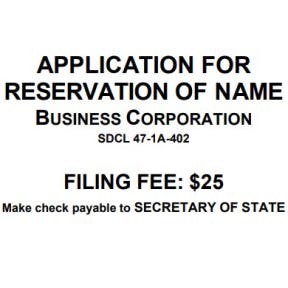 If your name is available, but you do not wish to register your business right away, you can apply to reserve your preferred name for a period of 120 days. Simply download, complete, and submit the name reservation form to the SOS. The filing fee is $25.00.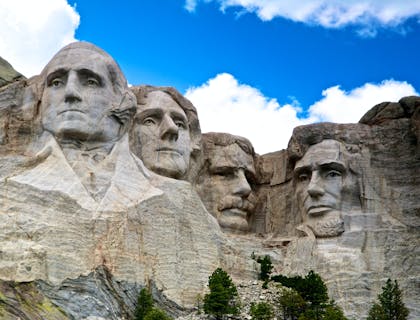 FAQs:
How can I do a South Dakota name lookup?
Navigate to the Secretary of State's business search tool, enter your desired business name in the applicable field, and click "Search." If there are any matching and/or similar names to yours, the database will display these results.
How can I look up an LLC in South Dakota?
The Secretary of State offers a Business Information Search tool that you can use to look up any business registered with the state. Simply enter the business name or ID in the applicable field and click "Search."
Does it cost anything to do a business search in South Dakota?
No, the service is free of charge.