Key Information
| | |
| --- | --- |
| Legal Name | Office of the Minnesota Secretary of State |
| Address | 332 Minnesota St., Ste. E200, St. Paul, MN 55101 |
| Email | |
| Telephone | |
| Website | |
How to Do a Minnesota Business Search: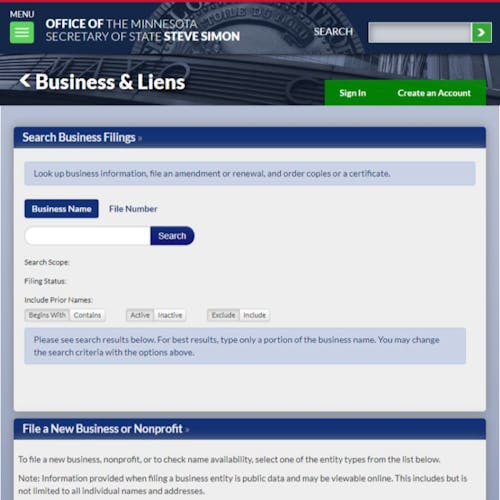 Use our step-by-step guide to come up with a great business name and check that it is available on the Office of the Minnesota SOS website by using their "Search Business Filings" tool.
1.
Conduct a Minnesota business search online.
1.1
Go to the Minnesota Secretary of State website.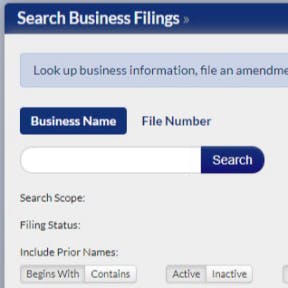 The Minnesota SOS website offers an easy-to-use business filings search tool.
With this tool, you can search by business name or file number, and you can use the search filters "Begins With" or "Contains."
1.2
Enter your name in the search bar.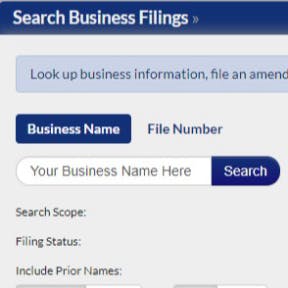 Type your chosen business name as you want it to appear without identifiers, such as "LLC" or "Corporation", into the search field under "Business Name." Leave all the search filters as-is and click on "Search."
1.3
View your search results.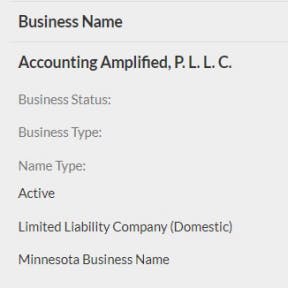 If your chosen name has not yet been registered, you will see a message stating "No results match the criteria entered." Otherwise, a table of results will be returned with information on the business name, status, and business type, as well as the name type.
You will need to go through the results to see if your chosen business name, or a deceptively similar one, has been registered.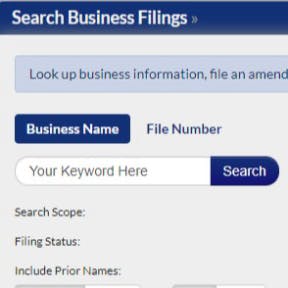 Once you have checked your full business name, you should repeat your search using only a keyword, or even part of a keyword, and the "Contains" search filter. You can also search for alternate spellings of your chosen business name as well as similar name options.
For example, if we were to search the name "Accounting Solutions," we would also search "accounting" or even simply "account" as a keyword.
2.
Additional Minnesota business search steps.
2.1
Do a domain name search.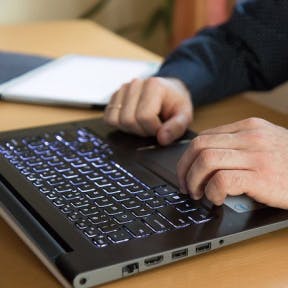 In order to establish your online presence and help your customers to find you, it is important to check that the domain matching your business name is available.
2.2
Search the USPTO database.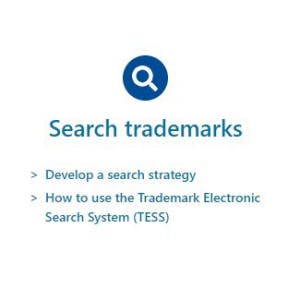 Conduct a search of the United States Patent and Trademark Office's (USPTO) trademark database to check that your name has not been federally trademarked or is in the process of being federally trademarked.
2.3
Consider registering your trademark with the state.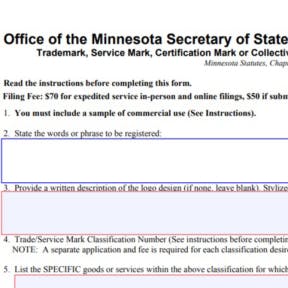 Trademarks and service marks can be registered with the Minnesota SOS. Trademarks can be filed in person, by mail, or online together with a $70.00 filing fee. You can find all the information you need on the SOS website.
As the SOS does not offer an online tool to search trademarks and service marks registered with the state, you will need to contact or visit the Business Services Division directly.
2.4
Reserve your business name.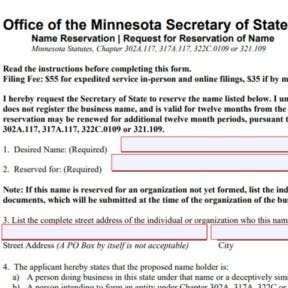 If your chosen business name is available in Minnesota, but you're not yet ready to register your business, you can file a name reservation application to reserve your business name for 12 months.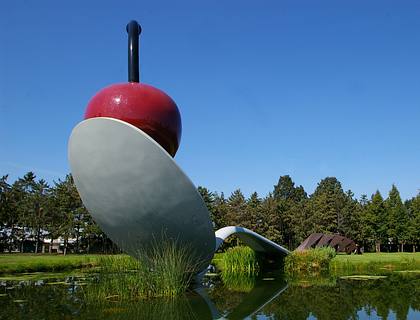 FAQs:
How do I look up a business in Minnesota?
Does it cost anything to do a business search in Minnesota?
No, it is completely free to perform a search on the Office of the Minnesota Secretary of State's website.
How do I register a business name in Minnesota?
You can register your business name in Minnesota by filing your formation documents or by submitting a Certificate of Assumed Name to the Secretary of State.
How do I change my business name in Minnesota?