Key Information
| | |
| --- | --- |
| Legal Name | Texas Comptroller of Public Accounts |
| Address | Lyndon B. Johnson State Office Bldg., 111 E. 17th St., Austin, TX 78774 |
| Email | |
| Telephone | |
| Website | |
How to Do a Texas Business Search: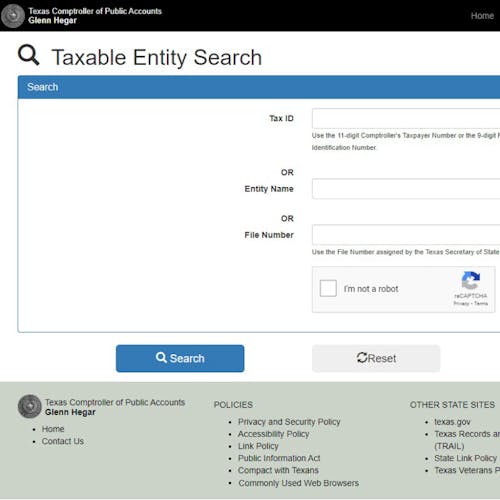 Before you can apply for a name reservation or file formation documents, you will need to ensure that your desired business name is available by performing business entity and trademark searches using the applicable online search tools.
1.
Conduct a Texas business search online.
1.1
Go to the Texas Secretary of State website.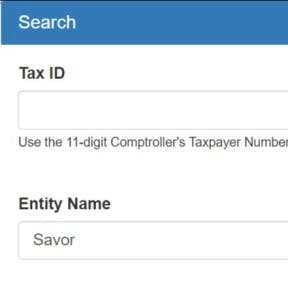 The Texas Secretary of State's (SOS) taxable entity search tool allows you to perform a preliminary search for your proposed business name. The tool will list any businesses with matching or similar names to your preferred business name.
If you prefer, you can also contact the SOS to provide a preliminary determination on name availability at 1 (512) 463-5555 (dial 711 for relay services), or email your name inquiry to corpinfo@sos.texas.gov.
Note that names are not checked against those of assumed business names of sole proprietorships, general partnerships, and other unincorporated businesses filed with the county clerk in each county where business is conducted. To search for these entities, you will need to conduct an assumed name search on your county clerk's website.
1.2
Type your business name in the search tool.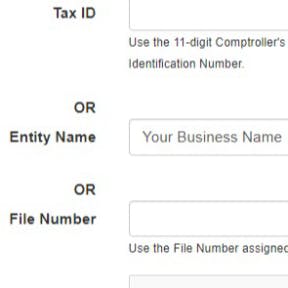 In the field next to "Entity Name," type in your preferred business name, excluding punctuation and identifiers such as "LLC" and "LLP." Thereafter, complete the reCAPTCHA test and click "Search."
Be sure to search alternate spellings and similar names to ensure that your proposed business name does not clash with those of other businesses in the database.
1.3
View the search results.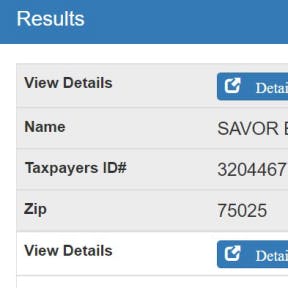 If there are no results, you will see a notification at the top of the next page stating "Business Name [X] was not found."
If the search yields results, it will indicate the number of matches found. For example, we searched the word "Savor," which yielded 93 matches. Below this, you'll see a table of results with matching and similar entity names listed alphabetically. You can click on the button labeled "Details" next to each entity to view more information.
Note that even if you do not find your proposed name in the database, you cannot adopt the name until such time as the state has received and processed your formation documents.
According to the SOS, the preclearance of a name or issuance of a certificate of formation does not authorize you to use the name in violation of another person's rights to the name, meaning that you cannot use the name exclusively. In light of this, it is advisable to consult an attorney to help you enforce and protect your intellectual property.
2.
Additional Texas business search steps.
2.1
Perform a state trademark search.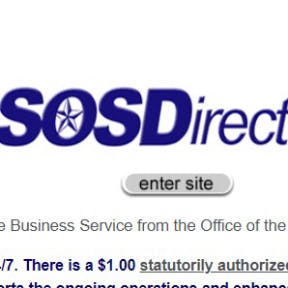 Trademark searches are advisable as the business search outlined above is limited to business names registered with the state and does not include state or federal trademarks.
Request an account or log in if you already have one. You can also sign in as a temporary user if you do not wish to sign up for an account.
Finalize your search by following the on-screen prompts.
2.2
Search the USPTO database.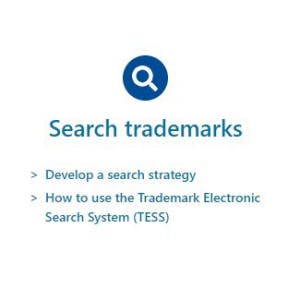 It is also advisable to search the United States Patent and Trademark Office's (USPTO) trademark database to check for any registered federal trademarks.
2.3
File a name reservation.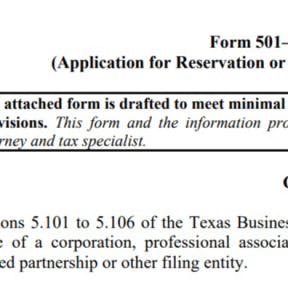 Once you have determined that your preferred name is available, you can opt to reserve it for up to 120 days prior to filing your entity formation documents.
You can file a name reservation via SOSDirect or by completing Form 501 and mailing it to the SOS along with the $40.00 filing fee.
FAQs:
How do I look up a business in Texas?
To conduct a Texas Secretary of State (SOS) business name search, navigate to the taxable entity search tool, enter your preferred name in the applicable field, and then click "Search."
How do I look up an assumed name certificate in Texas?
To search for the assumed names of sole proprietorships, general partnerships, and other unincorporated businesses in Texas, you will need to conduct an assumed name search on the applicable county clerk's website.
How can I search for trademarks in Texas?
To search for trademarks and service marks registered in the state of Texas, navigate to SOSDirect and create an online account if you don't already have one. Each trademark search costs $1.00. Alternatively, you can contact the SOS at 1 (512) 463-9760 or send an email request to trademarks@sos.texas.gov at no cost.
Does it cost anything to do a business search in Texas?
No, the service is free of charge.
What is the Texas SOSDirect?
The SOSDirect is an online business portal maintained by the Texas Secretary of State. Users can subscribe to receive up-to-date information, file business documents, search business entities, and check name availability or reserve business names.
How do I use SOSDirect Texas?