Midwives Business Name Ideas:
| Rank | Business Name | Description |
| --- | --- | --- |
| 1. | Beautiful Bellies Midwifery | This charming name is sure to attract expectant moms to your midwifery business. |
| 2. | New Beginnings Birthing Center | "New Beginnings" refers to new life entering the world. An ideal name for a birthing center. |
| 3. | Bundle of Joy Midwifery | This cute and catchy name makes use of a common term to describe a newborn baby. |
| 4. | The Midwives Club | Featuring a witty reference to a popular 90s movie, this name idea is both amusing and fun! |
| 5. | Holistic Birthing Center | A simple yet effective name that suggests a holistic approach to childbirth and pregnancy. |
| 6. | My Bump Center | "My" adds a personal touch to this short and sweet name. |
| 7. | The Stork Birthing Center | With a nod to folklore, this charming name is perfect for a midwifery or birthing center. |
| 8. | HerChoice Midwives | "HerChoice" suggests that expectant mothers are encouraged to give birth wherever they choose. |
| 9. | Made for Mums Midwifery | A unique and modern name that employs alliteration to make it sound appealing and memorable. |
| 10. | Love&Care Midwife Services | Convey your dedication to midwifery with this reassuring name idea. |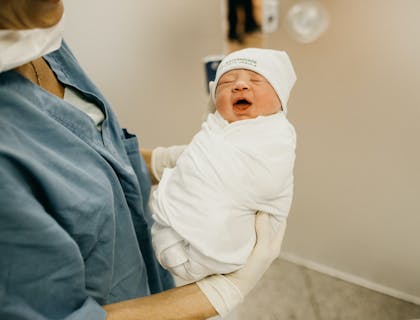 More Midwives Business Name Ideas:
Unique Birth Business Names:
Special Moments Birthing Center.
Birth Naturally.
BirthBaby Club.
Little Loves Company.
Blossoming Babes.
Funny Midwife Business Names:
Childbirth Chauffeur.
Accouchement Assist.
Mother's BFF.
Marshmellow Midwives.
Nanny Newborn.
Good Midwifery Practice Names:
The Midwife Madame.
Debby Delivery.
Earth & Birth Midwives.
Parturition Partner.
Birthing Buddy.
Creative Midwifery Business Names:
Labor Luber.
Push Partners Midwifery.
SimpleFlow Birthers.
Handholding & Healthy.
The Painless Push.
Catchy Midwives Business Names:
Plain Sailing Preggers.
Elementary Childbirth.
The Delicate Doula.
Marvelous Mum Mids.
Hello World Newborns.
FAQs:
How do I name my midwifery business?
Create a list of keywords and phrases related to your industry.
Find synonyms for these keywords.
Combine these words to form names or use a business name generator to create some unique name ideas.
Ask your friends and peers for feedback.
Check the domain and state availability of your shortlisted names.
Select a name and register it.
Where can I find a midwives business name generator?
You can use NameSnack, a free and intuitive business name generator that uses machine learning and instant domain search technology to generate scores of brandable business name ideas. Simply enter a few keywords and you'll have results within moments.