Metal Detector Services Name Ideas:
| Rank | Business Name | Description |
| --- | --- | --- |
| 1. | The Detector Rentals | A professional-sounding name that's well-suited for a metal detector rental service. |
| 2. | Detect Specialist | A simple but captivating name that's easy to remember. Also helps make your business recognizable. |
| 3. | The Steel Detector | "Steel" cleverly refers to an alloy of iron and hints that your metal detectors are strong. |
| 4. | Hunt Metal | Snappy and captivating. Could work for those who sell and/or use metal detectors on special hunts. |
| 5. | Detecting Security | A strong name for businesses aimed at corporate clients looking to install security metal detectors. |
| 6. | Expert Treasure | A fun, whimsical name that offers plenty of marketing and branding possibilities. |
| 7. | Go Metal Detectors | A simple name that's sure to attract your target market. Great for those who offer a wide variety. |
| 8. | The Expert Locator | Sounds professional. Labels you as a specialist in the field, something clients will appreciate. |
| 9. | Sense Specialist | A catchy and smart name that refers to the detector's ability to sense metal objects. |
| 10. | The Treasure Detector | This fun name instantly draws attention. Perfect for logo and slogan opportunities. |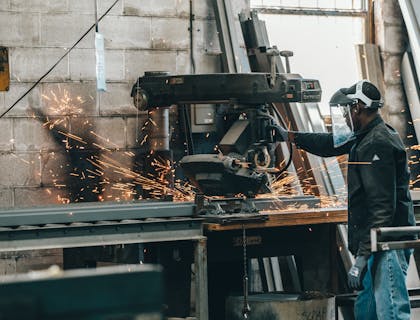 More Metal Detector Service Name Ideas:
Good Metal Detector Business Names:
Find Metal Now!
Iron Finder.
Professional Detectors.
Hidden Beneath.
Treasure Locator.
Unique Metal Detector Business Names:
Land Pirates.
Groundscanner.
Alloy Farmers.
Rent a Detector.
Detect & Unearth.
Creative Metal Detector Service Names:
Gold under the Sand.
Iron & More.
Precious Metal.
Treasure Finders.
Mystic Beeps.
Original Metal Detector Business Names:
Unearth It.
Metal Signal.
Detector Detectives.
The Metal Spy.
Precious Detectors.
FAQs:
How do I choose a name for my metal detector service?
Comb over your business and marketing plans.
Identify keywords that best describe your metal detector services.
Brainstorm name ideas and share them with your friends and family.
Use a name generator and online surveys.
Check name availability with the state.
Choose a name and register it with the state.
Where can I create cool metal detector business names?
Navigate to NameSnack – an intuitive and easy-to-use business name generator. Input your favorite keywords to create an original name for your metal detector business. Also, consider consulting our list of metal detector service names for ideas.