Metalworking Business Name Ideas:
| Rank | Business Name | Description |
| --- | --- | --- |
| 1. | Metal Science | 'Science' is a nod to your precision and accuracy with your metal work. You're an engineer. |
| 2. | Copper Cutters | The repeated 'c' creates a musical effect. A fun, catchy name. |
| 3. | Bronze Boys | Catchy alliteration. A great name for metalworkers who specialize in manufacturing bronze products. |
| 4. | The Metal Brothers | A good name for a family company with deep roots in the metalworking industry. |
| 5. | Metal Art | Suggests you produce artistic things from metal, including jewelry and ornaments. |
| 6. | The Metalists | Suggests to customers that metalwork is your specialty. You're the best in the business. |
| 7. | Mercury Masters | Working with mercury requires advanced metalworking talent. You've mastered this skill. |
| 8. | Assembly Man | A fun name for a solo-metalworker who specializes in assembling products from different metal parts. |
| 9. | Silverworkers | An ideal name for metalworkers whose specialty is manufacturing goods from silver. |
| 10. | Tinworkers | A great name for metalworkers who specialize in making products from tin. |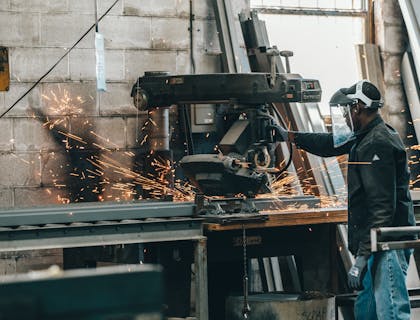 More Metalworking Business Name Ideas:
Good Metalworking Business Names:
The Metalcraft.
Forge Steel Inc.
Mintmetal Solutions.
Coast Metal Works.
Steel City.
Catchy Metalworking Business Names:
Kobalt Metalworks.
Crustmetal.
A Metal World.
All Iron Art.
Bare Metal.
Unique Metalworking Business Names:
Hard Metal Works.
Alchemist X.
Beltline Metal.
Palladium Palace.
Iron Metal Inc.
Cool Metal Stamping Business Names:
Metalworkers Hall.
Iron Me Iron.
Metals Galore.
Bronze Metal Guys.
Stingray Metal.
Creative Sheet Metal Company Names:
Flexible Tin.
Silvercore Co.
Destiny Metal.
Art Of Steel.
ASAP Metal.
Interesting Metal Company Names:
Haven Craft Metals.
MadMetal.Com.
Metal Art Depot.
Eclipse Aluminum.
Mr. Silverton.
Good Metal Business Names:
Diamond & Metal.
Nexus Metalworks.
Metal Mayhem.
Lead Studio.
Power Metalworking.
Unique Sheet Metal Company Names:
The Metal Grader.
Dr. Alchemy.
SolidPlates.
Alloy2Work.
Epic Forging.
FAQs:
How do you come up with a metalworking business name?
Brainstorm some potential names.
Think about words and concepts related to your metalworking business, target audience, and mission statement.
Try combining words or use a business name generator.
Review and reflect on your list.
Gain feedback.
What are some real-life metalworking business names?
Serett Metalworks.
Arc Angel Welding.
William Patchen Metal Works.
Ironbound Metalworks.
Unlimited Metalwork.