Welding Business Name Ideas:
| Rank | Business Name | Description |
| --- | --- | --- |
| 1. | Metal Champs | A simple and snappy name for a leading welding and metal works business. |
| 2. | Welder Art | An effortless name ideal for a creative welding business, such as a fancy fence and gate designer. |
| 3. | Advanced Ironwork | Straightforward about the type of work you do and the level of expertise you offer. |
| 4. | Performance Weld | A compelling name suitable for a high-risk welding specialist. |
| 5. | WelDemand | Melding "weld" and "demand" creates a name that is unique, fun, and easy to remember. |
| 6. | Sophisticated Steel | A classy name that creates high expectations. |
| 7. | Exact Weld | A short but effective name for a welding service that promises error-free results. |
| 8. | Expert Ironwork | A name that declares expertise when it comes to working with iron. |
| 9. | Fab Welder | A fun and catchy name for an independent mobile welder. |
| 10. | My Weld Supply | A name that is simple and to the point, ideal for a welding supply business. |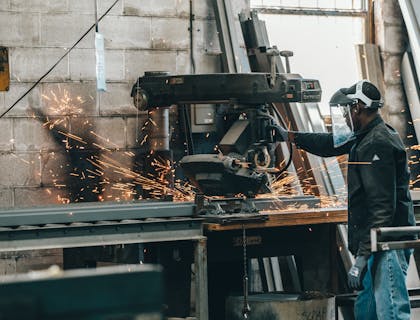 More Welding Business Name Ideas:
Funny Welding Business Names:
Wizwiz Welder.
Smiley's Welding.
The Super Welder.
The Spark Guy.
Shine Me Up Welding.
Badass Welding Company Names:
Savage Welding.
Blue Steel Welding.
Masterbilt Welding.
BulkIronz.
Steel Spark Welding.
Mobile Welding Business Names:
J&J Mobile Welding.
Mobile Sparks USA.
Mobile Spark Welding.
Welding Metal Works.
Mobile Weld Shop.
Unique Welding Business Names:
Xtreme Welding.
Welder by Choice.
Fast Iron Works.
Advanced Weld Works.
Weld Right Mechanics.
Good Welding Business Names:
Maverick Metals.
Wielding Welds.
Dawn Firewelders.
Thunderbird Iron.
Welbuilt Shop.
Catchy Welding Business Names:
Stark Metal Welding.
Sunburst Metals.
Mob Sparks Welding.
Skyfire Iron.
Sparklight Works.
Cool Welding Business Names:
TremTech Welding.
Super Metal Works.
Cascade Welding.
A+ Welderworks.
Sigma Sparks.
Smart Steel Business Names:
Eden Steel Works.
Wizard of Steel AZ.
Steel City Forge.
Spartan Steelworking.
The Steel Hand.
FAQs:
What are some famous welding business names?
CK Worldwide.
QC Metal Fabricators.
Weldcote Metals.
Advanced Welding Supply Company.
Pro Fab Welding Service.
How do I choose a welding business name?
Consider the type of services you'll provide.
Think about your target market and brand.
Brainstorm name ideas that best describe your business and feed them to a business name generator.
Conduct surveys and ask potential customers for feedback.
Check if your desired name is available.
Register it with the state.
Where can I find a good welding company name generator?
You can use NameSnack] a free and intuitive business name generator that uses machine learning and instant domain search technology to generate scores of brandable business name ideas. Have a look at a few examples we created using NameSnack.