Kitchen Business Name Ideas:
| Rank | Business Name | Description |
| --- | --- | --- |
| 1. | Dream Kitchen | Appeals to customers who have long-envisioned their ideal kitchen. You sell dreams. |
| 2. | Tile and Marble | A fun, catchy name that combines two crucial materials that make a kitchen . |
| 3. | Kitchen Kings | The repeated 'k' creates a musical effect. A fun, catchy name. |
| 4. | Our Kitchen | Conjures up an image of a warm, happy family together in a kitchen. A great name. |
| 5. | Kitchen Sparkle | 'Sparkle' evokes an image of a shiny new kitchen counter. A great name for a kitchen business. |
| 6. | New Kitchen | Tells customers exactly what to expect from you: a brand new kitchen to show off. |
| 7. | The Kitchen Professionals | Suggests to customers that you're a seasoned professional with a history of happy clients. |
| 8. | Brand New Kitchen | A no-frills name that tells customers exactly what they get: a lovely new kitchen. |
| 9. | Family Kitchen | 'Family' evokes a sense of comfort and happiness. Works well as a kitchen remodeling company. |
| 10. | My Kitchen Company | 'My' imparts a sense of familiarity on customers. You make kitchens that people love. |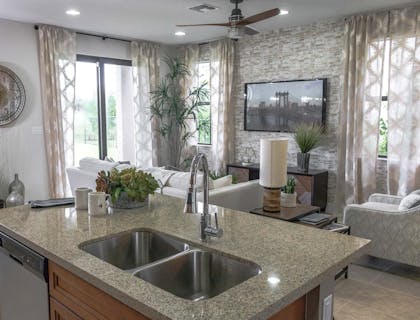 More Kitchen Business Name Ideas:
Good Kitchen Business Names:
The Kitchen Spot.
InterKitchen.
Leon's Decor.
Fab 5 Kitchen Designers.
The Kitchen Helper.
Catchy Kitchen Business Names:
BreezeKitchen.
Happy Cabinetry.
Urban Kitchen.
Build It Kitchen.
G&M Kitchen Stylists.
Unique Kitchen Business Names:
The Kitchen Scene.
Sue's Cabinets.
Design Inspirations.
Hearth Co.
Katie's Kitchen Company.
FAQs:
How do you come up with a kitchen business name?
Brainstorm some potential names.
Think about words and concepts related to your kitchen business, target audience, and mission statement.
Try combining words manually or using a business name generator.
Review and reflect on your list.
Gain feedback.
Where can I find a good kitchen business name generator?
Try NameSnack — a free and intuitive business name generator that uses machine learning and instant domain search technology to generate scores of brandable business name ideas. Simply enter a few keywords and you'll have results within moments. If you see a kitchen business name you love, consider purchasing the matching domain name before someone else snaps it up.
What are some existing kitchen business names?
The Kitchen Store.
Kitchen Inspiration Inc.
The Kitchen Master.
The Affordable Kitchen Company.
Kitchen Living.
Intelligent Kitchen.
Classic Kitchens.
DreamWork Kitchens.