Granite Business Name Ideas:
| Rank | Business Name | Description |
| --- | --- | --- |
| 1. | Glorious Granite | A name that rolls off the tongue, is easy to remember, and celebrates granite. |
| 2. | Marble Mavericks | A fun and catchy name with a daring edge. Suitable for any marble and granite business. |
| 3. | Stone Matters | "Matters" suggests you deal with stone-related issues and that stone is relevant. |
| 4. | The Granite Company | A name that is easy to remember and straightforward. Clearly identifies what the business is about. |
| 5. | Sure Granite | A strong name that conveys certainty and reliability. Consider using different colors and fonts. |
| 6. | All 4 Granite | An eye-catching name that advocates granite. Would absolutely shine in sleek branding. |
| 7. | Petrified | Refers to the process whereby organic matter changes into a stony substance. |
| 8. | Sunrise Granite | "Sunrise" makes the name sound bright and cheerful. |
| 9. | Slabs Of Stone | A catchy name that is suitable for a business that deals with any kind of stone slabs. |
| 10. | Right Granite | A name that is catchy because it rhymes. Implies authenticity. |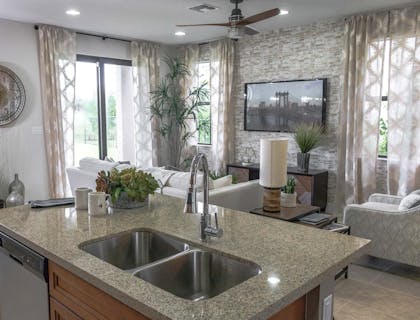 More Granite Business Name Ideas:
Cool Granite Business Names:
Stone Sage.
Geoplex Rocks.
Made by Magma.
Rock Starz.
Minedblowing Stones.
Catchy Granite Company Names:
Granitude.
Geo Gems.
Crush on Granite.
Rocksmyths.
Nature's Blast.
Good Granite Business Names:
Top Granite.
Magmarble.
Plutoniq Rox.
Stone Resistance.
Geotec Granite.
FAQs:
How do I come up with a granite business name?
Make a list of keywords related to the granite industry.
Think about your business vision and values.
Look for synonyms and related words.
Combine words to create name ideas or use a business name generator.
Review your list.
Get feedback from friends and colleagues.
Make a choice.
What are some existing granite business names?
CaesarStone.
Granite Transformations.
California Crafted Marble, Inc.
Dakota Granite Company.
Hilltop Granites.