Horse Business Name Ideas:
| Rank | Business Name | Description |
| --- | --- | --- |
| 1. | Scenic Stables | Repetition of the "S" makes for a memorable name. A great choice for a breeder or riding lodge. |
| 2. | Lovely Range Riding Lessons | A sweet-sounding name. May attract parents who want their kids to take up horseback riding. |
| 3. | Scenic Freedom Horseback Rides | Suggestive of a relaxing riding trail in a peaceful setting, such as the beach or mountainside. |
| 4. | Saddlery Style | A catchy and memorable name for a horse tack shop. |
| 5. | Sunset Rein Tours | A name that may attract those in search of a romantic getaway. |
| 6. | Rider Wild Equestrian Apparel | A great name for a luxury equestrian brand that sells gear for riders and their steeds. |
| 7. | Open Riding Lessons | "Open" suggests freedom or lessons for riders of all competencies. |
| 8. | Online Rein Tack Shop | A memorable name for an online store that sells horse gear. |
| 9. | Dawn Freedom | A simple and minimalistic name for an equestrian tour that begins at daybreak. |
| 10. | Rider Farm | Indicative of a farm where people learn to ride. A suitable slogan could link it to a horse breeder. |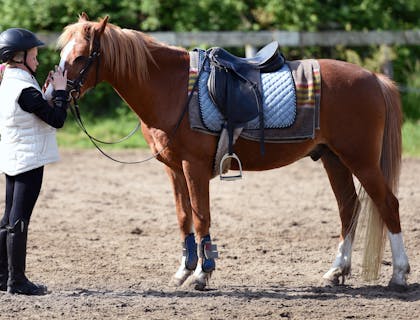 More Horse Business Names Ideas:
Cool Horse Training Business Names:
Olympus Stables.
Equinox.
The Coaching Store.
Practical Equine.
Horsing Around.
Horse Track Business Names:
D'Amigo Stables.
Black Horse Co.
Champions Club.
Highgate Farms.
The Breeders Loft.
Good Horse Stable Business Names:
Sparrow Ranch.
Wild West Stables.
Devine Equine.
Adriana Stables.
Concord Rance.
Fun Horse Stable Business Names:
Bunbury Equine.
L'Equilaunte.
S & S Horse Rance.
The Rancher's Inc.
Horse & More.
Catchy Horse Business Names:
World of Horses
The Horse and Goat.
Breeding Beauties.
Equine Energy.
Royal Stables.
Top-notch Horse Company Names:
Horse Me Down.
My Horse School.
Legends Equine.
The Horse Classic.
Stride On.
Unique Equine Business Names:
Jungle Equine.
Rider Equestrian.
Lola's Horse Shoppe.
All Breed Equine.
The Horse Room.
Horse Rider Business Names:
Storm Riding.
Aqua Stables.
Sunshine Rance.
Horse and Gear.
The Panting Prancer.
Fun Horse Ranch Business Names:
Bears Saddlery.
Cabanna Rides.
Deer King Ranch.
Ponies & Polkas.
J & J Horse Ranch.
FAQs:
How do I choose a name for my horse business?
Conduct industry research and analyze the names of existing horse businesses.
Think about what makes your horse business special.
Make a list of keywords and combine them to form name ideas.
Use a business name generator.
Share your top names with friends, family, and potential clients.
Register your best name.
Where can I find a good horse business name generator?
Try NameSnack. It is a free and intuitive business name generator that uses machine learning and instant domain search technology to generate loads of brandable business name ideas. Simply enter a few keywords and you'll have results within seconds. If you see a horse business name you love, consider purchasing the matching domain name before someone else rides off with it.
Where can I find a horse barn name generator?
Namesnack uses advanced AI to generate hundreds of fun and catchy business names. It can be used as a horse barn or stable name generator.
What are some real horse business names?
American Horse Trails, Inc.
American Dream Farm.
Manhattan Saddlery.
Dover Saddlery.
Three Chimneys Farm.