Diner Restaurant Business Name Ideas:
| Rank | Business Name | Description |
| --- | --- | --- |
| 1. | Burgers 'n' Shakes Diner | A fun and enticing diner name that tells customers what your specialty is — burgers and shakes! |
| 2. | Chevy Lane Diner | This catchy name idea brings to mind a 50s-inspired diner restaurant. Great logo inspiration. |
| 3. | Tuck In Diner | Including a phrasal verb like "Tuck In" is a great name idea for a diner where people love to eat. |
| 4. | Stardust Bistro & Diner | This striking name is the perfect choice for a retro diner with a jukebox for entertainment. |
| 5. | Flip 'n' Fry Diner | A clever reference to flipping and frying hamburgers, this catchy name is sure to attract patrons. |
| 6. | Goldust Dining Car | This combo word name might refer to a diner with a more upmarket, swanky appearance. |
| 7. | Frankie's Diner | Give the name of your diner familiarity by including your first name in the title. |
| 8. | All Night Dining Car | This straightforward name lets customers know that you're open 24 hours a day. |
| 9. | Bistro Hamburger Joint | A modern name for a diner with a trendy vibe and electric atmosphere. |
| 10. | Grilled Delights Diner | A gastronomical name idea that suggests a wide range of delicious food can be found here. |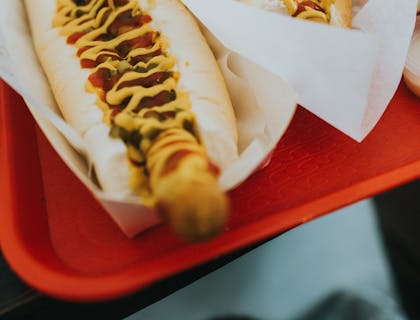 More Diner Restaurant Business Name Ideas:
Good Diner Names:
Pulp & Grille.
The Grilled Poet.
The Pie and Grill.
Five Guys Diner.
Pie-a-licious.
Catchy Retro Diner Names:
Bricks & Biscuits.
Curry Cone Cafe.
Grill Em Eats.
Smashburger Drive-In.
The Rusty Pickle.
Cool Diner Names:
Smells a Good Time.
Gimme More Diner.
Cafe Phix.
New Pointe Diner.
Bootlegger's Diner.
Memorable Diner Names:
Geek's Eatery.
Diner on the Square.
Jacksons Diner.
Five Points Eatery.
Smokey D's Diner.
Unique Diner Restaurant Names:
Sweet Cajun Grill.
Grease and Go.
I Love This Diner.
Moe's Smokey Dawg.
Grande American Diner.
'50s Diner Names:
The Good Egg Diner.
Gingerz Shake Shop.
Flavors of the Past.
Old Chicago Diner.
ShakeItUpBurgers.
Trendy Diner Names:
Throwback Diner.
Sunnier Days.
Simple Joy Diner.
Fat Peppers Diner.
The Great Dane.
FAQs:
How can I come up with diner restaurant name ideas?
List keywords that reflect the character of your diner.
Look for synonyms, metaphors, and word associations.
Combine words to create name ideas.
Use a business name generator.
Review your list and get feedback.
Check if your preferred name is available.
Make a choice.
Where can I find a diner name generator?
Try NameSnack — this AI-powered business name generator will create hundreds of name suggestions in seconds with only a few inputted keywords. Alternatively, see our collection of diner name ideas.
What are some famous diner names?
The Blue Benn.
The Breakfast Club.
Cozy Dog.
Galley Diner.
Brent's Drugs.