Burger Business Name Ideas:
| Rank | Business Name | Description |
| --- | --- | --- |
| 1. | Slider to the Left | A twist on "slide to the left"; a famous lyric from "Cha-Cha Slide." |
| 2. | Burger Bites | Alliterative. Perfect for a store that sells mini burgers, sliders, and other bite-sized foods. |
| 3. | Stacked Burgers | Simple but catchy. Think hamburgers loaded with all the fillings. |
| 4. | Better Burger | Slightly cheeky but completely memorable. In this case, alliteration serves as a mnemonic device. |
| 5. | Grande Burgers | Sounds lavish. Ideal for a joint that serves large burgers laced with fancy trimmings. |
| 6. | Say Double Cheese | A punny option that could work well for a laid-back spot. |
| 7. | Burger Plaza | Think street-style food served in or near an open-air setting. |
| 8. | HerbiBurger | Combines "herbivore" and "burger." Serve up meat-like dishes and you're sure to attract the masses! |
| 9. | Furious Burgers | Lighthearted and super catchy. Think flaming hot burgers, lightning-fast service, etc. |
| 10. | Stuffed Buns | For a restaurant that offers a unique take on traditional hamburgers. |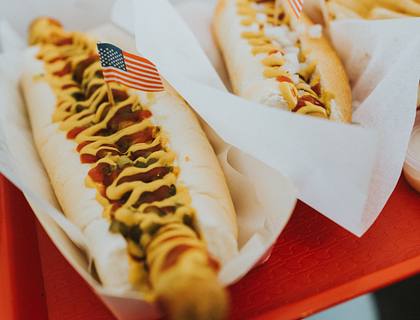 FAQs:
What should I name my burger business?
Burger Bites.
Stacked Burgers.
Grande Burgers.
Burger Plaza.
HerbiBurger.
What are some quirky burger business names?
Slider to the Left.
Better Burger.
Say Double Cheese.
Furious Burgers.
On a Roll.
What are some unique burger shop name ideas?
Stuffed Buns.
Burger Island.
Burger Believe It.
Deluxe Sliders.
The Burger Emporium.
Where can I find a burger business name generator?
Try NameSnack. Provide one or more keywords, a short description of your burger business, and information about your preferred domain extension(s). You'll have thousands of unique name ideas at your fingertips within moments.
What are some well-known burger business names?
Burger King.
In-N-Out.
Carl's Jr.
Shake Shack.
McDonald's.