Burger Business Name Ideas:
| Rank | Business Name | Description |
| --- | --- | --- |
| 1. | Slider to the Left | A twist on "slide to the left"; a famous lyric from "Cha-Cha Slide." This idea makes a great burger shop name. |
| 2. | Burger Bites | A fun, alliterative name for a burger shop. Perfect for a store that sells mini burgers, sliders, and other bite-sized foods. |
| 3. | Stacked Burgers | A simple but catchy burger company name. Think hamburgers loaded with all the fillings. |
| 4. | Better Burger | Slightly cheeky but completely memorable. In this case, alliteration serves as a mnemonic device. |
| 5. | Grande Burgers | Sounds lavish. Ideal for a joint that serves large burgers laced with fancy trimmings. |
| 6. | Say Double Cheese | A punny option that could work well for a laid-back spot. |
| 7. | Burger Plaza | This idea works well for a burger place name where street-style food is served in or near an open-air setting. |
| 8. | HerbiBurger | Combines "herbivore" and "burger." Serve up meat-like dishes and you're sure to attract the masses! |
| 9. | Furious Burgers | A lighthearted and super catchy burger joint name. Think flaming hot burgers, lightning-fast service, etc. |
| 10. | Stuffed Buns | For a restaurant that offers a unique take on traditional hamburgers. |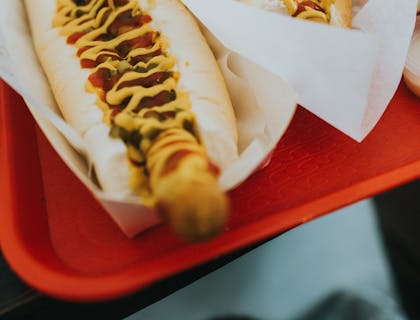 More Burger Business Name Ideas:
Creative Burger Business Names:
Bun Busters.
Mustard & Bacon.
Beef 'n' Cheese Inc.
BurgerNurger Co.
Vegi Express Burgers.
Quirky Names for a Burger Business:
On a Roll.
Rhythmic Burgers.
The Skew Axe.
Fries Little Helper.
Abeef Nu.
Unique Burger Business Names:
Round Express.
Burger Believe It.
Sundowner Sliders.
500g Beauties.
Wicked Buns.
Best Burger Business Names:
Sinful Eats.
Free the Beef.
Veg Me Up Burgers.
Chicken Culture.
Angus Genius.
Cool Burger Shop Names:
Bun Crazi.
Grill Time.
L'Authentic Meats.
Meat Me @ 1.
My Burger Journey.
Catchy Burger Restaurant Names:
Exotic Inquests.
South Snacks.
The Bun Squad.
Fork-Free Foods.
Sauce Selectors.
Great Burger Place Names:
The Patty Boy.
Moe's Smokehouse.
The Burgh Bazar.
Eat-a-Mania.
The Culinary Deli.
Funny Burger Business Names:
The Fatty Pattie.
The Ticklish Cow.
Bun Loving.
The Lonely Pickle.
Shake Rattle 'n' Roll.
FAQs:
What are some well-known names of a burger business?
Burger King.
In-N-Out.
Carl's Jr.
Shake Shack.
McDonald's.
Where can I find a burger joint name generator?
Try NameSnack — a free and intuitive business name generator that uses machine learning and instant domain search technology to generate scores of brandable business name ideas, including burger joint names. Also, consider consulting our list of burger business names for ideas.