Austrian Restaurant Business Name Ideas:
| Rank | Business Name | Description |
| --- | --- | --- |
| 1. | A Taste of Vienna | Suggests that you'll spoil your guests with authentic dishes from Austria's vibey capital. |
| 2. | Tafelspitz House | "House" suggests to customers yours is the go-to place for authentic Austrian food. Memorable. |
| 3. | The Real Schnitzel | If you don't compromise on the quality and the taste of your authentic Wiener schnitzel, then this is the name for you. |
| 4. | Kasnocken Knockout | Suggests that guests can enjoy delicious Kasnocken and other hearty Austrian specialties. |
| 5. | Austrian Garden | "Garden" evokes a sense of nature and fresh food. Ideal for an Austrian vegan restaurant. |
| 6. | Sacher trifft Strudel | Ideal for an Austrian restaurant known for its traditional, delicious desserts. |
| 7. | Gulasch Palace | "Palace" communicates a sense of fine dining. Ideal for an upmarket Austrian restaurant that takes this home-style dish and elevates it. |
| 8. | Authentically Austria | The repeated "a" sound creates a musical effect. A fun name. |
| 9. | Best Backhendl in Town | Austria is well-known for its tasty fried chicken, and this name implies that you spoil guests with the best chicken dishes. |
| 10. | My Austrian Restaurant | "My" imparts a sense of familiarity to customers. Yours is the Austrian restaurant they love. |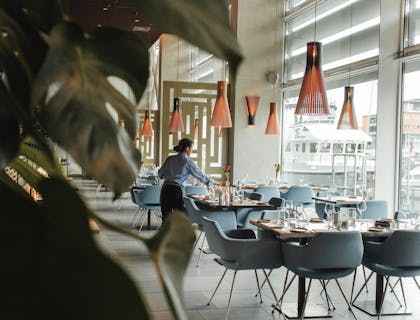 More Austrian Restaurant Business Name Ideas:
Good Austrian Restaurant Names:
True Tafelspitz.
Schnitzel Royale.
Wiener Keller.
Des Kaisers Schmarrn.
Cafe Jause.
Catchy Austrian Restaurant Names:
Bistro Busserl.
Taste of Tyrol.
Austrian Appetite.
Palatschinken Palace.
Grace of Graz.
Unique Austrian Restaurant Names:
Schitzelmania.
Very Vienna.
Steirer Schmankerl.
Cafe Salzburg.
Wie in Wien.
FAQs:
How do you come up with an Austrian restaurant name?
Brainstorm some potential names.
Think about words and concepts related to your Austrian restaurant business, target audience, and mission statement.
Combine words or use a business name generator to create name ideas.
Review and reflect on your list.
Gain feedback.
Secure the name.
Where can I find an Austrian restaurant name generator?
NameSnack is a free and intuitive tool that can create scores of brandable business name ideas from a few input keywords.
What are some famous Austrian restaurant names?
Suppenküche.
Naschmarkt.
Wurstküche Restaurant.
Red Lion Tavern.
Wirtshaus.