Winery Business Name Ideas:
| Rank | Business Name | Description |
| --- | --- | --- |
| 1. | The Boutique Winery | An elegant name for a smaller style winery, the word "boutique" gives this name an exclusive feel. |
| 2. | The Noir Style | "Noir" is reminiscent of Pinot Noir or the French "Vin Noir", making this name an elegant and exotic choice for a winery. |
| 3. | Tasting Vintage | A simple name that hints at a customer's ability to taste truly classic wines. |
| 4. | The Premium Cellar | This name tells potential customers that your wines are of the highest quality available. |
| 5. | My Beauty Blanc | "Blanc" is the French term for white wine and with this alliteration, it makes for a beautiful name. |
| 6. | Bright Varietal | A fun and unique name for a vineyard that specializes in sparkling wines and/or champagnes. |
| 7. | The Foothill Harvest | This is a great descriptive name for the area your grapes are grown in. |
| 8. | Boutique Oak | "Oak" refers to the types of barrels that wine is matured in and makes a cute addition to this name. |
| 9. | Petit Blend | This cute, simple name uses the French word for small and describes the kind of wine made here. |
| 10. | Enticing Bacchus | "Bacchus" was the Roman god of wine, so using his name says that your wine can entice the gods. |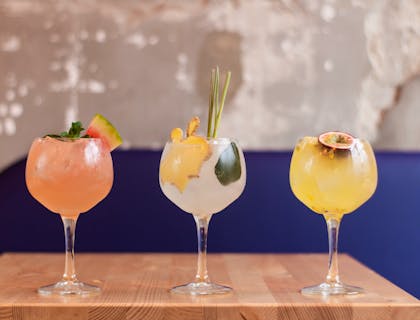 More Winery Business Name Ideas:
Funny Winery Names:
Brawny Winey.
Just a Sip.
Wine Not.
Mean Wine.
Winery Good.
Catchy Winery Business Names:
Little Italy Vineyard.
Santana Winery.
Vinifera Wine Studio.
The Wine Workshop.
Redwood Winery.
Unique Winery Business Names:
Aroma Sauvignon.
The Oak Barrel.
The Grape Taste.
The New Oak.
Tribal Valley Winery.
Professional Winery Names:
Van Nest Winery.
Santorini Vineyards.
Sunset Estate Winery.
Velvet Barrique.
Solera Winery.
Cool Winery Business Names:
Olympia Vineyard.
Cheers Winery.
Moaï Winery.
Monte Vista Winery.
Hacienda Winery.
FAQs:
How do I choose a winery business name?
Research the winery business and make a list of related keywords.
Combine keywords from your list or run them through a business name generator to generate name ideas.
Keep your name ideas simple, especially if you are planning to expand overseas.
Check domain and state availability for your favorite names and do a Google search on them too.
Ask for feedback on your favorite names.
Secure the best name.
Where can I find a vineyard names generator?
You can use NameSnack to generate hundreds of business name ideas for your vineyard with just a few keywords. If you find a name you like, secure the domain before someone else grabs it. Alternatively, take a look at our list of examples for inspiration.
What are some famous winery business names?
Buena Vista.
Blackstone Winery.
Mount Veeder.
Wild Horse Winery.
William Hill Estate.
Firestone Vineyard.
Etude Wines.