Vintage Business Name Ideas:
| Rank | Business Name | Description |
| --- | --- | --- |
| 1. | Olde Worlde Charm | This cute business name uses old English spelling to give it a vintage flair. |
| 2. | A Vintage Heart | A beautiful business name idea that can suit a variety of businesses, from antiques to skincare. |
| 3. | Aged Echoes | Offer products that will echo through time with this vintage-style business name. |
| 4. | From the Attic | This funky vintage name idea suits a second-hand or thrift store. |
| 5. | Timeless Eras | An elegant name idea that will add charm to a variety of businesses, such as a clothing boutique. |
| 6. | RetroGold | A trendy name idea that will add a vintage feel to a jewelry store. |
| 7. | Classic Treasure | A pretty, elegant name idea that suits an antique store or a souvenir shop. |
| 8. | Baroque Legends | This awesome vintage business name would work well for a furniture store, museum, or art gallery. |
| 9. | Old School Gifts | Offer a bit of old school, vintage style with this trendy name idea for a gift shop. |
| 10. | BaroqueBeauty | The alliteration on the "B" makes this vintage name idea catchy and memorable. |
| 11. | Indie Legends | A cool name idea for a music or indie shop. "Legends" gives this name its vintage appeal. |
| 12. | Ancient Magic | "Magic" could mean "wonder" or "excitement" or it could work for a supernatural shop. |
| 13. | Throwback Trinkets | An alliterative name idea for a souvenir or antique store that will give the business a retro feel. |
| 14. | Beauty Echoes | This elegant name works for a beauty and wellness business; for beauty that echoes through time. |
| 15. | CollectibleCharm | The alliteration on the "C" will help customers to remember this vintage style business name. |
| 16. | Olde Treasure | "Olde" use the old English spelling, giving this business name idea a vintage flair. |
| 17. | Elegance of an Era | A beautiful, classic name idea for a clothing store or dress maker's. |
| 18. | A Vintage Spring | A "vintage spring" is an old saying meaning "a wine fount;" great for a wine shop or vinyard. |
| 19. | The Retro Bash | "Bash" is an old slang term meaning "a great party," adding a vintage appeal to this business name. |
| 20. | Blast From the Past | This rhyming vintage name uses an old slang word, "blast," meaning "a great time." |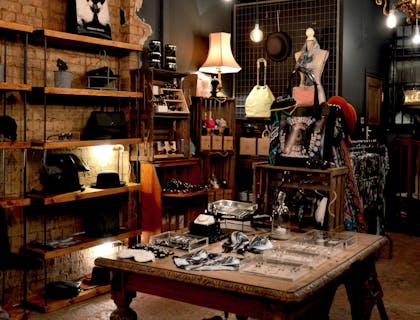 More Vintage Business Name Ideas:
Vintage Business names for Etsy:
The Vintage Shoppe.
Time 'N Place.
Last Chance Seasons.
Sloane Vintage.
Bubblegum Makeup.
Cool Old Timey Business Names:
Chaucer's Den.
Tears from Age.
Soulstice Emporium.
The Retro Appeal.
Restoration Hype.
Vintage Brand Names:
A Leather Place.
Luv the Vintage.
Golden Era Fashion.
Le Reveille Retro.
The Kaki Zebra.
Victorian Business Names:
Second Life Co.
English Cellars.
Victorian Noir.
The Silk Gown.
The Royal Secret.
FAQs:
How can I come up with vintage business names?
Brainstorm keywords related to "vintage."
Review your business plan, target market, and competitors and add related keywords to your list.
Combine your keywords manually or with a business name generator to create cool vintage style names.
Shortlist your favorite vintage company names and check their availability.
Ask for feedback.
Which companies have vintage business names?
Vestiaire Collective.
The Vintage Cosmetic Company.
Subrina Heyink Vintage.
Vintage Brewing Company.
Elia Vintage.