Key Information
| | |
| --- | --- |
| Legal Name | Tennessee Secretary of State |
| Address | 312 Rosa L. Parks Ave., 6th Fl., Snodgrass Tower, Nashville, TN 37243 |
| Email | |
| Telephone | |
| Website | |
How to do a Tennessee Business Search: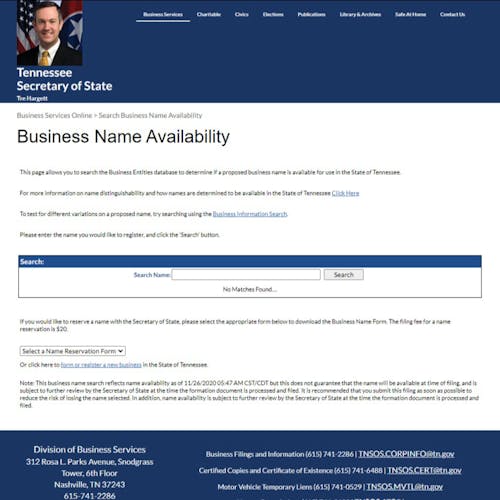 Before you can apply for a name reservation or file formation documents, you will need to ensure that your desired business name is available by performing business entity and trademark searches using the applicable online tools.
1.
Conduct a Tennessee search online.
1.1
Go to the Tennessee SOS website.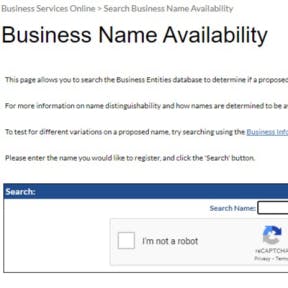 The SOS offers a business search tool that allows you to determine the availability of your preferred business name. The Business Entities database will list all registered, reserved, and assumed entity names that are similar or identical to your desired name.
1.2
Use the online tool to search for your business name.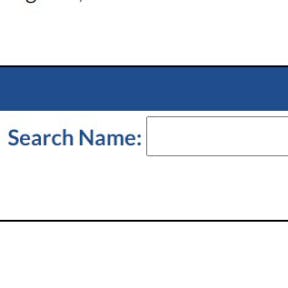 The business name availability tool is very easy to use. Simply enter your preferred business name in the "Search Name" field, complete the reCAPTCHA test, and click "Search."
To search for variations of your name using filters, navigate to the Business Entity Search page. You will see two radio buttons, namely "Starts With" and "Contains."
Selecting "Starts With" will enable you to search just the first word of your name. For example, if your desired name was "Frank's Plumbing Services," by entering the first word, "Frank," the database would bring up all variations of that word, such as "Frank's" and "Franks."
Alternatively, if you want to search a general keyword or phrase, such as "plumbing services," you could select "Contains." The database would then bring up all instances of that phrase, e.g., "A to Z Plumbing Services."
Be sure to search for alternate spellings and similar names to ensure that your potential business name does not clash with those of other business entities in the database.
1.3
View the search results.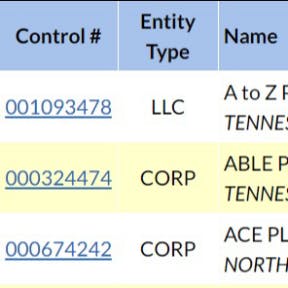 If the search string does not yield any results, your name is most likely available.
If there are matching and/or similar names to your desired business name, you'll see a table listing each entity in alphabetical order. The table lists each entity's control number, name type, name status, filing date, and status. You can click on each control number to view more information about that particular company.
You may be able to adopt your name if it is distinguishable from all active entities in the Division of Business Services' corporate management database. Read through the SOS name requirements for further guidance.
Name availability depends on the existence of trademarks.
2.
Additional Tennessee business search steps.
2.1
Perform trademark searches.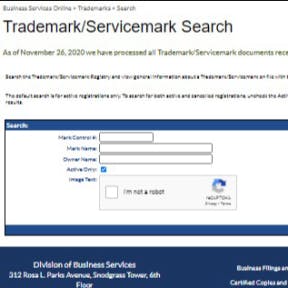 Trademark searches are advisable as the business search outlined above is limited to business names registered with the state and does not include state or federal trademarks.
The state's trademark search tool provides access to all active and inactive trademarks and service marks registered with the state. Start by using this tool.
It is also advisable to search the United States Patent and Trademark Office's (USPTO) trademark database to identify any registered federal trademarks.
2.2
File a name reservation.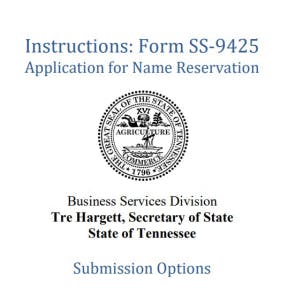 If your preferred name is available but you do not want to register your business right away, you can reserve your name for up to 120 days by submitting the applicable name reservation form. The filing fee for a name reservation is $20.00. Alternatively, you can obtain the form by emailing the Secretary of State at tnsos.corpinfo@tn.gov or by calling 1 (615) 741-2286.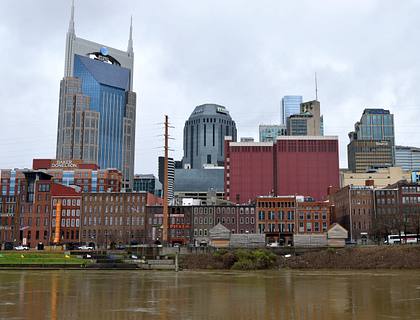 FAQs:
How do I find out who owns a business in Tennessee?
You cannot find out who owns a business in Tennessee through a business search. The Secretary of State's corporate management database only lists the details of businesses' registered agents (RAs). To find out who owns the business in question, you'll need to contact the RA directly.
How do I look up a business license in Tennessee?
You can conduct a business search on the Secretary of State (SOS) website. Navigate to the SOS business search tool, enter the business's name, and click "Search."
Does it cost anything to do a business search in Tennessee?
No, the service is free of charge.
How do you register a new business in Tennessee?
Where can you search State of Tennessee business names?
You can search a directory of Tennessee business names by using a business search tool provided by the Secretary of State.
How do you perform a Tennessee business entity search?
Navigate to the Secretary of State website and perform a business entity search by typing the entity's name into the search bar and clicking "Search."