Teeth Whitening Business Name Ideas:
| Rank | Business Name | Description |
| --- | --- | --- |
| 1. | Wisdom White | An alliteration that both relates white teeth to intelligence and plays on the words wisdom teeth. |
| 2. | Toothglow | Plays on the phrase glowing smile. A glowing smile is an attractive quality. |
| 3. | Sparkletooth | Says that clean, white teeth sparkle in the sunlight. Sparkling teeth are a sign of beauty. |
| 4. | Goshine | Go out there and shine with your smile! |
| 5. | Brush Wisdom | To be associated with wisdom is to be seen as experts in your field. You are the teeth experts. |
| 6. | Out Brighten | Out-smile and out-shine everyone you know with Out Brighten. |
| 7. | Healthytooth | Reminding you that bright teeth are not only aesthetically pleasing, but also a sign of good health. |
| 8. | Brightlywhite | A fun name to say that promotes the image of a healthy, pretty smile. |
| 9. | Whiterise | An action word that says "we make teeth shine white." |
| 10. | Whiten Lighten | A playful name that rhymes and rolls off the tongue. |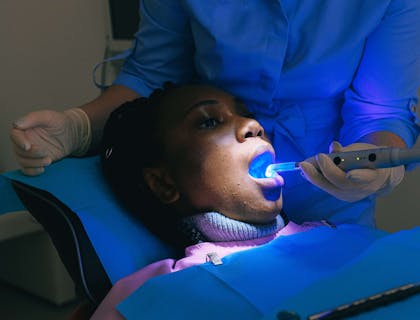 More Teeth Whitening Business Name Ideas:
Cool Teeth Whitening Business Names:
Whitestock Studios.
Kiss Me Bright.
Diva Smiles.
Whiterie Salon.
The Whitening Loft.
Catchy Teeth Whitening Business Names:
The Teeth Color.
Whitastic Polish.
Smile on the Corner.
Viva Teeth Whitening.
Smile on 6TH.
Unique Teeth Whitening Business Names:
Spectrum Whitening.
Diamonds Tooth Care.
Prestige Polish.
Jazz Teeth Care.
Sunrise Dental Spa.
Interesting Teeth Whitening Company Names:
Mosaic Faces.
Sun Dives.
Blissfully Bright.
Stunning & Polished.
Dentify by Design.
Good Teeth Whitening Business Names:
Blazing Bright Teeth.
Rising Star Smiles.
Truly White Teeth.
Smile Beautifull.
The Whiteout Clinic.
Teeth Whitening Kit Names:
Smile Today Kit.
My Brightest Self.
The White Kit.
Slick Stick Teeth.
Blue White Kit.
FAQs:
Where can I find a good teeth whitening business name generator?
Try NameSnack — a free and intuitive business name generator that uses machine learning and instant domain search technology to generate scores of brandable business name ideas. Simply enter a few keywords and you'll have results within moments.
What are some famous teeth whitening business names?
Brightnow.
Magic Smile.
Lumia Dental.
NYC Smile Spa.
The Whitening Gals.
How do I choose a teeth whitening business name?
Brainstorm some potential names.
Think about words and concepts related to your teeth whitening business, target audience, and mission statement.
Try combining words or use a business name generator.
Review and reflect on your list.
Get feedback from trusted peers.