Teeth Whitening Business Name Ideas:
| Rank | Business Name | Description |
| --- | --- | --- |
| 1. | Wisdom White | An alliteration that both relates white teeth to intelligence and plays on the words wisdom teeth. |
| 2. | Toothglow | Plays on the phrase glowing smile. A glowing smile is an attractive quality. |
| 3. | Sparkletooth | Says that clean, white teeth sparkle in the sunlight. Sparkling teeth are a sign of beauty. |
| 4. | Goshine | Go out there and shine with your smile! |
| 5. | Brush Wisdom | To be associated with wisdom is to be seen as experts in your field. You are the teeth experts. |
| 6. | Out Brighten | Out-smile and out-shine everyone you know with Out Brighten. |
| 7. | Healthytooth | Reminding you that bright teeth are not only aesthetically pleasing, but also a sign of good health. |
| 8. | Brightlywhite | A fun name to say that promotes the image of a healthy, pretty smile. |
| 9. | Whiterise | An action word that says "we make teeth shine white." |
| 10. | Whiten Lighten | A playful name that rhymes and rolls off the tongue. |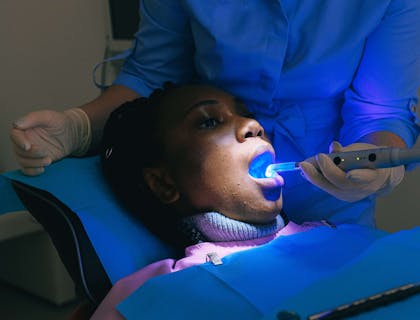 FAQs:
What are some famous teeth whitening business names?
Brightnow.
Magic Smile.
Lumia Dental.
NYC Smile Spa.
The Whitening Gals.
How do I choose a teeth whitening business name?
Brainstorm some potential names.
Think about words and concepts related to your teeth whitening business, target audience, and mission statement.
Try combining words or use a business name generator.
Review and reflect on your list.
Gain feedback.
Check the name's availability.
Secure the name.
What are some cool teeth whitening business names?
Wisdom White.
Toothglow.
Brush Wisdom.
Sparkletooth.
What are some catchy teeth whitening business names?
Sparkletooth.
Brightlywhite.
Whiten Lighten.
Goshine.
What are some unique teeth whitening business names?
Out Brighten.
Healthytooth.
Whiterise.
Brightlywhite.
Where can I find a good teeth whitening business name generator?
Try NameSnack — a free and intuitive business name generator that uses machine learning and instant domain search technology to generate scores of brandable business name ideas. Simply enter a few keywords and you'll have results within moments.
What are some interesting teeth whitening company names?
Sparkletooth.
Whiterise.
Toothglow.
Healthytooth.