General Dentist Business Name Ideas:
| Rank | Business Name | Description |
| --- | --- | --- |
| 1. | Doctor Smile | A lovely, snappy name that highlights the nature of your work. Perfect for a friendly dentist. |
| 2. | Pint-Sized Dentistry | Great for a center that specializes in treating children. |
| 3. | The Dental Experts | Conveys meaning while indicating that the clinicians are highly trained and experienced individuals. |
| 4. | Bright Smiles Institute | References the outcome of the specialists' interventions. "Institute" offers a sense of credibility. |
| 5. | Little Giggles Clinic | Super cute! Ideal for a general dentist that often sees little kids. |
| 6. | Dentists on Plaza | Gives others a sense of your location. Ideal for a clinic that doesn't plan on moving any time soon. |
| 7. | Pinnacle Dentistry | For a business that's a cut above other dental practices. |
| 8. | 62 Smile Boulevard | A fun, quirky name that's sure to withstand any number of location changes. |
| 9. | The Dental Institute | Sounds professional. Could even work if the business evolves to become a multidisciplinary team. |
| 10. | EveryDental | Rolls off the tongue. Perfect for a clinic that offers a wide range of dental services. |
| 11. | Recreate Your Smile | Reads like an invitation. Highlights the work and care that goes into dental treatments. |
| 12. | Dental Giants | A twist on "gentle giants," which may calm anxious patients. "Giants" is synonymous with expertise. |
| 13. | The Gentle Dentist | Sounds similar to "the general dentist." Evokes a sense of trust and calmness. |
| 14. | Grinning Kids Clinic | A non-threatening name that could work well for a pediatric center. |
| 15. | The Oral Health Clinic | Informative. Leaves room for the business to expand to include specialized dental services. |
| 16. | The Mouth Architects | Ideal for a clinic that offers cosmetic and reconstructive procedures. |
| 17. | Dentistry For You | A personalized name that would work well for a patient-centered business. |
| 18. | Enamored Dental | Catchy! "Enamoured" sounds a little like "enamel." |
| 19. | Toothy Smiles | Synonymous with big, bright smiles — precisely what your clients will be leaving with. |
| 20. | Pearly Whites Clinic | Informative without being too direct. Offers plenty of inspiration for a great logo. |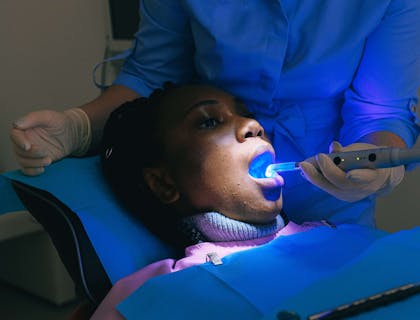 More General Dentist Business Name Ideas:
Catchy Dental Clinic Names:
Oasis Dental Suite.
A+ Dental Phoenix.
A Dental Affair.
Smile Stylish Dental.
My Lovable Dentist.
Cool General Dental Company Names:
Oral Health Dentistry.
DentalWorks Centers.
Smile Prime Dental.
The Star Smiles.
Precise Dental Arts.
Memorable Dental Company Names:
Towne Mall Dental.
Healing Smile Dental.
A Denture Clinic.
The Dentistry Group.
Serenity Smiles.
Funny Dental Office Names:
A Date With Dentures.
Laughing Gas Dental.
Say Ah! Dentistry.
Fill the Hole Dental Clinic.
Pearly Whites Dental Care.
Good Names for my Dental Office:
The Bite Specialist.
Downtown Dental Worx.
Smile Matters Dental.
Dream Bite Clinic.
Dr. Smile Fix.
Creative Dental Clinic Names:
The Dental Palace.
The Smiling Fixer.
The TinyDental Group.
Smile Bright Clinic.
Bright-O Dental.
Unique Names for my Dental Clinic:
Bridge Star Dental.
Smile Now Clinic.
Molaris Dentistry.
Bright Pearly Smiles.
Dental Grace.
Funny Dental Clinic Names:
The League Of Dentalmen.
Molar Energy.
Cavity Search.
Stand Up And Bite.
Molar Opposites.
FAQs:
How do I choose a general dentist business name?
Gather your general dentist business name options.
Pick your favorite ones, paying close attention to how easy they are to spell and pronounce, and the messages they might convey.
Show likely clients and dependable loved ones your top picks and request their honest input.
Use your insights to condense your list of options even more.
Wait a bit to discover what grows on you.
What should I name my general dentist business?
What are some existing dental business names?
All Smiles General Dentistry.
Relax and Smile Dental Care.
Ultra Smile Dentistry.
Skyline Dental Care.
iSmile Dental Care.
Where can I find a dental clinic name generator?
You can use our business name generator, which can create hundreds of ideas for dental clinic names from a few keywords.
How do you name a dental clinic?
Review your services and the age range you'll treat.
Create a keyword list containing the ideas generated.
Combine words on your list. Consider using an online thesaurus to find synonyms for some of them.
Try a business name generator to create some unique name ideas.
Identify which names potential patients like best.
Register one that resonates with you.