Pediatric Dentist Business Name Ideas:
| Rank | Business Name | Description |
| --- | --- | --- |
| 1. | The Tiny Dentist | A cute, creative, and simple name that offers great marketing and branding possibilities. |
| 2. | Shine Specialist | A catchy name that sounds professional and trustworthy. Hints that you're an expert in the field. |
| 3. | Glow Pediatric | Well-suited for a pediatric dentist who specializes in creating glowing and healthy smiles. |
| 4. | Shine Bite | A creative, marketable name that puts a clever twist on the phrase "shine bright." |
| 5. | Cavity Kid | Quick, witty, and easy to remember. Parents will know exactly where to go to fix cavities. |
| 6. | The Small Tooth | Tells clients exactly what you do while also evoking a sense of playfulness. Good for slogan ideas. |
| 7. | Radiant Practice | "Radiant" reassures your patients & parents that they'll leave your practice with a sparkling smile. |
| 8. | Go Pediatric Dentist | A straightforward and reliable choice that is sure to attract your target market. |
| 9. | The Teeth Docs | This quirky and fun name instantly grabs attention. Be sure to add an enticing logo design. |
| 10. | Smile Pediatric | Simple and adorable. The ideal choice for a pediatric dentist who loves creating happy smiles. |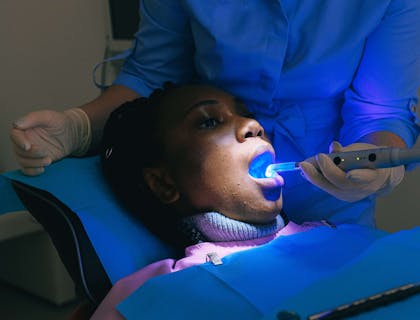 More Pediatric Dentist Business Name Ideas:
Trendy Pediatric Dentist Practice Names:
Star Smiles for Kids.
Dental Care for Kidz.
Smileology Clinics.
Kids Plus Dentistry.
Smiletastic Kids.
Catchy Pediatric Dental Practice Names:
Graceful Kids Dental.
Smileworks4kids.
The Happy Smiles.
Giggles and Gums.
Little Ones Dentistry.
FAQs:
What are some existing pediatric dentist business names?
Rising Stars Pediatric Dentistry.
Enchanted Forest Pediatric Dentistry.
Bitesize Pediatric Dentistry.
Tender Care Pediatric Dentistry.
Smiles Pediatric Dentistry.
How do I choose a name for my pediatric dental practice?
Review your business and marketing plans to identify keywords.
Brainstorm name ideas and share them with your peers.
Use a business name generator for inspiration.
Launch online polls and surveys to gain feedback.
Perform a name availability search.
Choose a suitable name and [register it](https://www.namesnack.com/guides/how-to-register-a-domain-name.