Sensual Business Name Ideas:
| Rank | Business Name | Description |
| --- | --- | --- |
| 1. | Aphrodisia Aromatherapy | Encourage customers to create the right atmosphere with this sensual name idea. |
| 2. | EroticVixen | A punchy, memorable name that oozes sensuality. Consider adding a horn-inspired tittle. |
| 3. | So Seductive | A catchy name that instantly captures the attention. The alliteration adds to its memorability. |
| 4. | Romantic.ly | A cool, new way to present your brand. Makes a great domain name. |
| 5. | Minxful | A naughty-but-nice name for a wide range of sensual businesses. |
| 6. | Sexxee | Promote sensual fun with this alluring name idea. The perfect addition to a modest brand. |
| 7. | Alluring.io | A great alternative choice to a domain with a ".com" suffix. |
| 8. | Sensations | This sultry-sounding name is best suited for a range of intimate products. |
| 9. | LA Risque | A cool name choice for a Los Angeles-based business. The repetitive "A" sound makes it stand out. |
| 10. | Saucy Belle | Whet your customers' appetite with this racy name idea. |
| 11. | Passionia | Business is all about passion! You'll say it best with this sassy name. |
| 12. | Sultry Essentials | A superb name for a range of sensual bath products, massage oils, and candles. |
| 13. | FlirtMagnet | This cheeky name idea simply demands attention. Think pink and white colorways and simple font. |
| 14. | Lover's Lane | A not-so-secret spot where lovers go to be alone. An unforgettable name. |
| 15. | Lovable Crush | A cute, flirty name for a dating app or online store. |
| 16. | Pleasure Bunny | This seductive name is sure to titillate potential customers. |
| 17. | Flirtish | A catchy name that's fun to say and easy to remember. |
| 18. | Skin Delights | A simple yet memorable name that's best suited for a skincare range. |
| 19. | Sweet & Sensual | The repetition of the "S" appeals to the senses. You'll love the slogan opportunities. |
| 20. | Erotiq | A saucy name idea for any sensory-focused business. |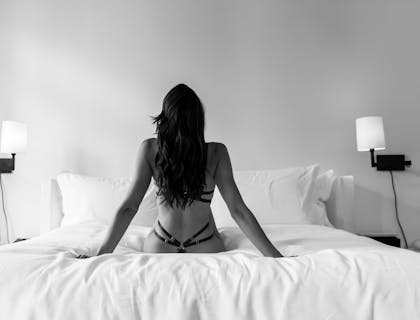 FAQs:
What are some sensual names for a business?
Passionia.
Erotiq.
LA Risque.
Alluring.io.
Minxful.
EroticVixen.
Sensations.
Skin Delights.
How can I come up with some sensual business names?
Think about your business concept and any themes and phrases related to your industry.
Create a list of keywords and combine them to form name ideas or use a business name generator.
Ask family and friends for feedback.
Check the state and domain availability of your shortlisted names.
Register your chosen name with the state.
Secure your domain.
What makes a business name sensual?
A sensual business name captures the sensual nature of your business offering in a meaningful way. Your name should speak to the senses of your target audience and draw them in — creating the desire to seek out and test your product or service for themselves.
What are some examples of sensual names for a business?
Erotiq.
Lovable Crush.
FlirtMagnet.
Sultry Essentials.
Aphrodisia.
So Seductive.
Lover's Lane.
Romantic.ly.
What companies have sensual business names?
Inner Secrets Lingerie.
Sensual Import.
Scarlett's Sexy Cleaning Service.
Intimacy World.
Victoria's Secret.
La Perla.
What are some sensual brand names?
Pleasure Bunny.
Flirtish.
LA Risque.
Erotiq.
So Seductive.
EroticVixen.
Passionia.
Sensations.
What are some exotic clothing line business names?
LA Risque.
Sweet & Sensual.
Flirtish.
Passionia.
Saucy Belle.
Alluring.io.
Minxful.
EroticVixen.