Key Information
| | |
| --- | --- |
| Legal Name | Government of Puerto Rico — Registry of Corporations and Entities |
| Address | Calle San José, Plaza de Armas, San Juan 00901 Puerto Rico |
| Email | |
| Telephone | |
| Website | |
How to Do a Puerto Rico Business Search: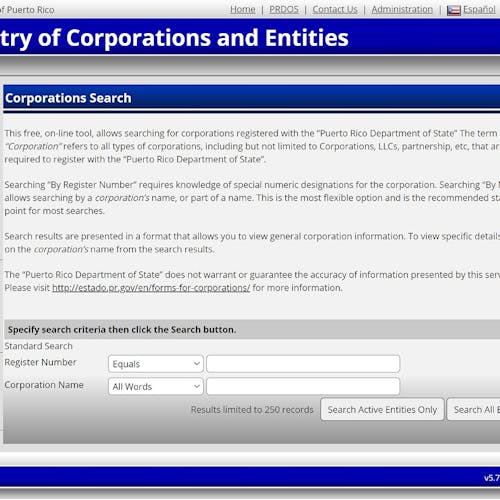 Before you can apply for a name reservation or file formation documents, you will need to ensure that your desired business name is available by performing business entity and trademark searches using the applicable online tools.
1.
Conduct a Puerto Rico business search online.
1.1
Go to the Puerto Rico DOS website.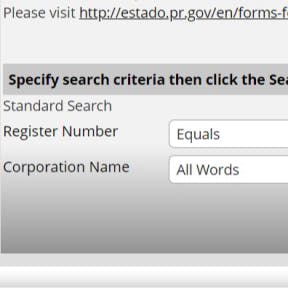 The DOS offers an online tool that allows you to search the Registry of Corporations and Entities for all businesses registered in the region.
It's important to note that this is only a preliminary search. The DOS must receive and process your entity formation documents before you can adopt the name.
1.2
Use the online tool to search your business name.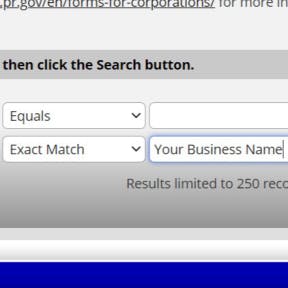 In the drop-down list next to "Corporation Name," select "Exact Match" and enter your preferred business name in the search bar. Leave the "Register Number" field blank. It is advisable to search all entities as opposed to only active entities, since you'll want the tool to generate as many results as possible.
Repeat your search by using the "All Words" and "Any Word" filters to ensure a more thorough search of the database. For these searches, you can look up your full proposed name as well as the main keyword from your name — for example, "accounting" if your ideal name is "Smith Accounting Services."
Be sure to search alternate spellings and similar names to ensure that your preferred business name does not clash with those of other business entities in the database.
1.3
View the search results.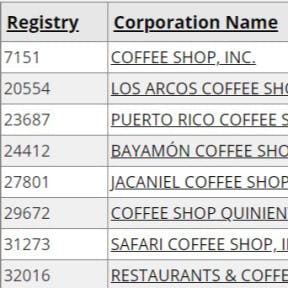 If the search does not yield results, you will see a message stating "Cannot find corporation." In this case, your favorite name is likely available to use. However, you'll need to conduct trademark searches and submit your entity formation forms to verify the availability of your name.
If there are any identical and/or similar names to your preferred business name, a list of entities will be displayed. You can click on each entity name to view more information about that particular business.
2.
Additional Puerto Rico business search steps.
2.1
Perform trademark searches.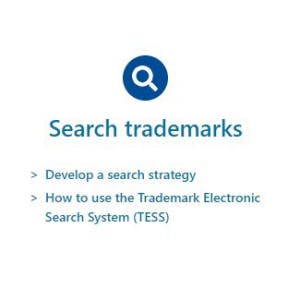 Trademark searches are advisable as the business search outlined above is limited to business names registered with the Puerto Rican government and does not include local or federal trademarks.
Start by using the Puerto Rico Trademark Office's (PRTO) search tool to determine whether there are conflicting trademarks, service marks, or trade names in the region.
Once you have ascertained that you will not be infringing on another entity's trademark or service mark in Puerto Rico, you should search the United States Patent and Trademark Office's (USPTO) trademark database to check for registered federal trademarks.
2.2
File a name reservation.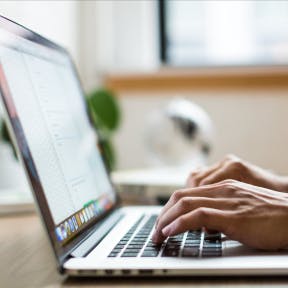 If your name is available but you do not wish to register your business right away, you can apply to reserve your name for a period of 120 days. After completing the name availability search, navigate to the Forms for Corporations page on the DOS website.
If you are starting a general partnership, limited partnership, or corporation, download the "Application for Reservation of Corporate Name" listed under "Other."
If you are starting a limited liability company (LLC), download the name reservation application form listed under the heading by the same name.
Complete the applicable form and submit it to the DOS along with your filing fee.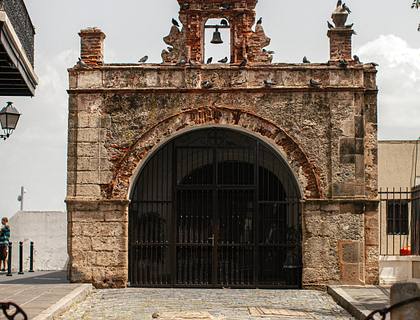 FAQs:
How can I do a business search in Puerto Rico?
You can perform a business search by using the Puerto Rico Department of State's online tool. Simply select the applicable filter(s) and search your preferred business name.
Does it cost anything to do a business search in Puerto Rico?
No, the service is free of charge.
How do I reserve a business name in Puerto Rico?