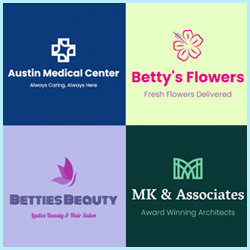 Try the world's #1 online logo maker
See why thousands of new businesses design their logos with Zarla.
Nice Business Names:
| Rank | Business Name | Description |
| --- | --- | --- |
| 1. | Freshthink | This catchy name would suit a wide array of businesses, from marketing to design. |
| 2. | Solidrive | The combination of "Solid" and "Drive" creates a confident, bold, and trustworthy name idea. |
| 3. | MadeAmazing | This cool name stands out for its simplicity and bold statement about your product(s). |
| 4. | Fabulously | Adding the suffix "ly" to "Fabulous" makes this name unique and easy to remember. |
| 5. | Luxurint | Combining "Luxury" and "Glint," this name would easily suit any luxury brand. |
| 6. | Smartcore | This catchy name cleverly conveys the attributes of your brand in a unique way. |
| 7. | Incredible Visions | A striking name that suggests innovation, creativity, and forethought. |
| 8. | Truely | Adding "ly" to the word "True" gives this name a unique spin. Simple yet memorable. |
| 9. | SuperZest | A fun and fresh name for any business focused on achieving results. |
| 10. | GeniusDynamic | This winning name perfectly encapsulates your business's vision and mission. |
| 11. | Funoble | A cool and modern name that suggests hard work with a dash of fun. |
| 12. | Activvity | Adding the extra "V" to the word "Activity" gives this name a unique look and feel. |
| 13. | Goodline | This memorable name evokes images of lending your clients a helping hand. |
| 14. | Exigent | This confident name would best suit a legal services provider or technology firm. |
| 15. | Bizlytic | A catchy, modern name for a business analytics company. |
| 16. | Innovant | Combining "Innovate" and "Relevant," this impactful name suggests the importance of transformation. |
| 17. | Crafterly | This charming name would suit any creative business. |
| 18. | Freshise | A cool, modern name that suggests originality and creativity. |
| 19. | Vivid Render | This striking name idea is perfect for an creative or graphic design company. |
| 20. | Infusionary | Combining "infusion" and "extraordinary," this name looks and sounds appealing. |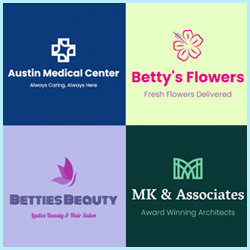 Try the world's #1 online logo maker
See why thousands of new businesses design their logos with Zarla.
FAQs:
How can I come up with some nice business names?
Think about your business concept and create a list of keywords and phrases related to your industry.
Combine these keywords to create name ideas or use a nice business name generator.
Get feedback from your peers.
Check the state and domain availability of your shortlisted names.
Register your chosen name with the state.
Purchase your domain name.
What makes a business name nice?
A nice business name should reflect your mission and values, and describe what you do in a few words. A nice name is typically unique, memorable, and enticing to customers.
What are some examples of nice business names?
Truely.
Luxurint.
Freshthink.
Incredible Visions.
Solidrive.
SuperZest.
Innovant.
Vivid Render.
Infusionary.
What companies have nice business names?
Spotify.
Expedia.
Pixar.
Sephora.
Elemis.
Vimeo.
What are some nice brand names?
Facebook.
Pinterest.
eBay.
Nike.
McDonald's.
YouTube.