Motorcycle Dealer Business Name Ideas:
| Rank | Business Name | Description |
| --- | --- | --- |
| 1. | My Ride Supply | This is a great name for a dealership that has it all, from motorbikes to parts to accessories. |
| 2. | Custom Harley | This name could work for a dealership that specializes in custom-designed Harley-Davidson bikes. |
| 3. | Go Ducati | Dealers using this name could tell people that once they go Ducati, they'll never go back! |
| 4. | The Rampant Fire | A dangerous, exciting name for motorcycle enthusiasts with great logo design possibilities. |
| 5. | Motorcycle Chief | For the leader of motorcycle dealers, this name is memorable and interesting. |
| 6. | Wild Throttle | A short, fast name that will intrigue protential customers. |
| 7. | Bike Lab | Fun name for a dealership that specializes in custom-built motorbikes or doing repairs for clients. |
| 8. | Davidson Motorcycle | A straightforward, clear name for a dealership specializing in Harley-Davidson motorcycles. |
| 9. | The Rev Rider | This name is a cool nod to the sounds a motorbike makes. |
| 10. | The Motorbike Hog | A play on "hog" meaning to hoard things and being the slang term for a motorbike. |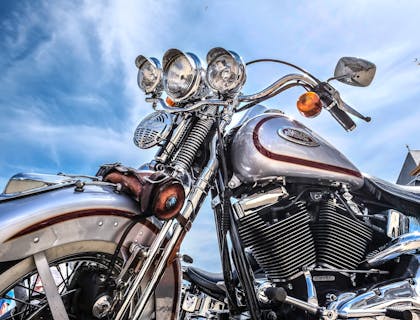 More Motorcycle Dealer Business Name Ideas:
Unique Motorcycle Business Names:
Stalion Motorcycles.
Rebel Bikers.
Coyote Motorbikes.
MonsterBikes.
Red Wheels.
Smart Motorcycle Dealer Business Names:
The Bike Club.
Need for Steed.
The Italian Biker.
Speedy Bikes.
Scootify.
Cool Motorcycle Dealer Business Names:
Biker's Dream.
Captain Motorbike.
Motomania.
Holy Motors.
Biker Nation.
Motorcycle Company Names:
Superbikes.
YamaMotors.
Premium Motorcycles.
The Motorbike Yard.
Biker Bros.
Motorbike Business Names:
Motolab.
Dirty Bikers.
Chopper Life.
The Big Hog.
Big Five Bikes.
FAQs:
How do I choose a motorcycle dealer business name?
Go over your business plan and customer profile and create a list of keywords.
Research the industry to add related keywords to your list.
Combine keywords or put them through a business name generator to generate name ideas.
Check for domain and state availability on your top names and do a Google search.
Ask for feedback on your top available names.
Get the name.
Is there a motorcycle shop name generator?
What are some famous motorcycle dealer business names?
Texas Harley-Davidson.
America's Motor Sports.
The Transportation Revolution.
Black Wolf Harley-Davidson.
Fun Bike Center Motorsports.