Lawn Care Business Name Ideas:
| Rank | Business Name | Description |
| --- | --- | --- |
| 1. | Portrait Lawns | A simple yet elegant name describing picturesque greens. |
| 2. | Pasture Nurse | A fun and easily remembered description of lawn care services. |
| 3. | Tidy Acre | A simple yet effective name that conveys a dedication to maintaining immaculate lawns of any size. |
| 4. | WonderfuLawns | Just rolls off the tongue and makes the nature of the business instantly recognizable. |
| 5. | Mow Season | A fun way to identify the services you offer and remind customers of seasonal lawn care needs. |
| 6. | StunninGreens | A simple and classy name that describes the results customers can expect of your services. |
| 7. | Go Mow | A short and snappy command ideal for positioning a lawn care brand as fun yet efficient. |
| 8. | IdeaLawns | A clever and catchy combination of the words "ideal" and "lawns." |
| 9. | Stay Lush | A name that resonates with anyone who has a garden and wants it to be full and flourishing. |
| 10. | The Pasture People | An easy and straightforward name that is made highly memorable by the use of alliteration. |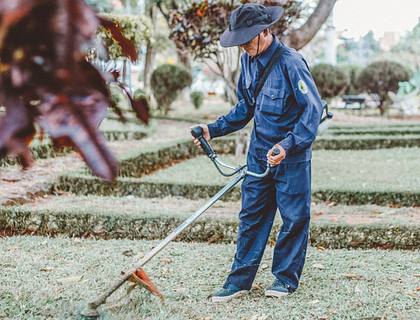 More Lawn Care Business Name Ideas:
Catchy Lawn Care Business Names:
Tropicana Turf.
Dirt Divine.
Peachtree Landscaping.
Weeds 'n' More.
Leafy Joy Lawn Services.
Badass Lawn Care Business Names:
Phoenix Grass.
Awesome Force Lawn Care.
Killer Queen Landscaping.
Main Event Mow & Clean.
Hero Lawn Hauling.
Creative Lawn Care Business Names:
Haven's Greenery.
My Moonlit Meadow.
Just Groomed Grass.
Sandy Lane Turfs.
Feelin' Veld Services.
Simple Lawn Care Business Names:
Olympia Lawns.
Dig It Up.
Mow's Lawn Life.
GrassGo Studio.
The Lawn Factory.
Good Lawn Care Business Names:
Organic Plant Masters.
Land of Plenty Lawn Service.
Diggin' Club.
Sunshine Lawns.
The Soil Game.
Professional Lawn Care Business Names:
Fine Fertilizing.
The Lawn Cleaners.
Fresh Season Services,
Healthy Turf Care.
Leafy Springs.
Cool Lawn Care Business Names:
Luv Ur Lawn.
My Fresh Cut.
Harvest Landscaping.
Silver Sage Lawn Care.
Green & Clean Mowing.
Funny Lawn Care Business Names:
Good Thymes Garden.
Peas & Quiet Lawns.
Grassroots Care Co.
Century Soil Weeding.
So Ferny Mow & Care.
Unique Lawn Care Names:
All Grown Greens.
Happy Bloom Mowing.
The Great Grass Lady.
Sunflower Pros.
EcoLeafers.
Modern Lawn Mowing Business Names:
The Foliage Authority.
Mow Much?
Sprout & Leaf Gardening.
Green Easy Lawn Care.
Maintenance Mowing.
FAQs:
What are some famous lawn care company names?
BrightView.
LandCare.
U.S. Lawns.
Weed Man.
Lawn Doctor.
How do I choose a good lawn care business name?
Making a final decision can be difficult. We suggest starting with a business name generator for inspiration. Ask potential customers to give feedback on your name ideas. Give it a couple of days to see if a name grows on you and check availability to make sure you can really own it.
How do I use a lawn mowing business name generator?
Write down some keywords that best represent your business.
Enter them into NameSnack to generate a variety of business name ideas.
Choose a few of your favorites and show them to family and friends for feedback.
Select the name that will perfectly describe your lawn mowing business.