Lawn Care Business Name Ideas:
| Rank | Business Name | Description |
| --- | --- | --- |
| 1. | Portrait Lawns | A simple yet elegant name describing picturesque greens. |
| 2. | Pasture Nurse | A fun and easily remembered description of lawn care services. |
| 3. | Tidy Acre | A simple yet effective name that conveys a dedication to maintaining immaculate lawns of any size. |
| 4. | WonderfuLawns | Just rolls off the tongue and makes the nature of the business instantly recognizable. |
| 5. | Mow Season | A fun way to identify the services you offer and remind customers of seasonal lawn care needs. |
| 6. | StunninGreens | A simple and classy name that describes the results customers can expect of your services. |
| 7. | Go Mow | A short and snappy command ideal for positioning a lawn care brand as fun yet efficient. |
| 8. | IdeaLawns | A clever and catchy combination of the words "ideal" and "lawns." |
| 9. | Stay Lush | A name that resonates with anyone who has a garden and wants it to be full and flourishing. |
| 10. | The Pasture People | An easy and straightforward name that is made highly memorable by the use of alliteration. |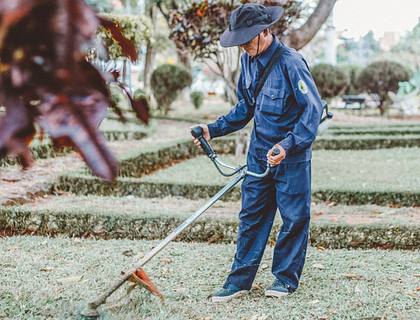 How to Start a Landscaping Business
Detailed guide with helpful information on fees, costs, requirements, formation, marketing, and hiring. Also includes tips, FAQs, and a download.
FAQs:
What are some catchy lawn care names?
PastureNurse.
Go Mow.
Classy Grass.
The Pasture People.
What are some badass lawn care names?
IdeaLawns.
StunninGreens.
WonderfuLawns.
Tidy Acre.
What are some famous lawn care company names?
BrightView.
LandCare.
U.S. Lawns.
Weed Man.
Lawn Doctor.
The Grounds Guys.
Spring-Green Lawn Care.
CleanScapes.
How do I choose a lawn care business name?
Making a final decision can be difficult. We suggest starting with a business name generator for inspiration. Ask potential customers to give feedback on your name ideas. Give it a couple of days to see if a name grows on you and check availability to make sure you can really own it.
What are some creative lawn care names?
Stay Lush.
Portrait Lawns.
Mow Season.
StunninGreens.
PastureNurse.
The Pasture People.