Internet Business Name Ideas:
| Rank | Business Name | Description |
| --- | --- | --- |
| 1. | We Cyber | "We" personalizes the name, evoking a sense of trust. Helps clients believe you're on their side. |
| 2. | The Login | Strategic name that says you've got all the latest news and trends, encouraging clients to stop by. |
| 3. | Webase | A clever combination of the words "web" and "base." Great addition to a brand or internet network. |
| 4. | World Wide Grid | This powerful name implies that you cater to customers all around the world. Promises variety. |
| 5. | The Internet Smith | Sounds professional & modern. "Smith" reassures clients that they're in capable hands. |
| 6. | Global Click | An inventive name that will be a dream to market. Advises clients that the world is a click away. |
| 7. | OctoWeb | A fun name that would absolutely shine when paired with an octopus-inspired logo. |
| 8. | Click & Cyber | A catchy name that effortlessly rolls off the tongue. You'll have plenty of brand expansion options. |
| 9. | Internet Temps Co. | Straightforward & simple. This name would suit a job board for those who specialize in online work. |
| 10. | The Digital Vine | An interesting name that could lead to various internet-based business possibilities and ideas. |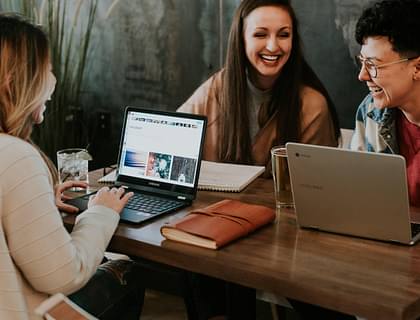 More Internet Business Name Ideas:
Cool Internet Business Names:
Cliquipo Networks.
1up Dot Com.
The Link Up Guy.
CommMonster.
A-1 Compu-Tek.
Catchy Internet Business Names:
Hop A Click.
Web Warlock.
Internutter.
Connect Effect.
NetNabberz.
Clever Internet Business Names:
Speedmax Internet.
Xtreme TechNet.
Jumpstart Networks.
EZ Web & Data.
A Perfect Link.
Professional Internet Business Names:
Action Access.
OnPoint Broadband.
Digix Networks.
Blue Shield Connect.
ClickPlus Networks.
Modern Internet Company Names:
JadeGeeks.
Twiddle Net.
Fastech Connect.
OptiFiCorp.
The BitClix.
FAQs:
How do I choose a good internet business name?
Consider your services, expertise, brand, and target market.
Identify keywords that best describe your brand and feed them to a business name generator.
Brainstorm name ideas and share them with peers.
Ask potential customers to complete online polls and surveys.
Perform a name availability search in the state.
Choose a name and register it.