Home Repair Business Name Ideas:
| Rank | Business Name | Description |
| --- | --- | --- |
| 1. | MaintenancEdge | A clever name that suggests your home maintenance business is a cut above the rest. |
| 2. | Mr. Repairman | A simple yet effective name that is ideal for a home repair franchise. |
| 3. | Good Upkeep | A simple and clean name that is easy to remember and instills trust. |
| 4. | My Fix Up Whiz | A fun and compelling name for a home repair specialist. |
| 5. | Handyman Upgrade | Suggests that you offer superior home maintenance services. |
| 6. | Maintenance Champ | Clear and easy to remember, this name suggests you offer top-notch home repair services. |
| 7. | Mr. Fix | A short and simple name that is ideal if you plan on offering a wide selection of repair services. |
| 8. | Swift Fix | A short and snappy name that promises fast and and efficient repair services. |
| 9. | RepaiRightaway | This distinctive name is ideal for a 24/7 home repair service. |
| 10. | UpKeep Link | A unique and clever name that positions you as the go-to home maintenance service. |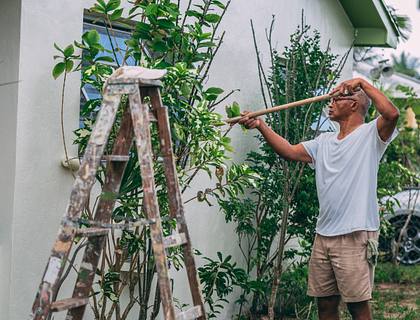 More Home Repair Business Name Ideas:
Creative Home Repair Business Names:
Fix it Bob.
The Repair Rastas.
Floors, Doors, and More.
Task I Do.
HomeFix.
Good Home Repair Business Names:
Roof Maintenance Co.
Solder and Soil.
Jumping Jacklifts.
Handy Andy's.
Plow Medic.
Cool Home Repair Company Names:
Guru's Repair.
Stylish Fix.
Tough Fixit.
Home Repair Stars.
The Home Doctor.
Catchy Home Repair Business Names:
Brick Fixer.
Dryer Xperts.
Perfect Touch Fix.
Accent Home Repair.
A+ Home Restore.
Unique Home Repair Business Names:
Safe Repairs.
House Certified Remedy.
Accurate Plus Co.
Finished Works Ltd.
Smart Homes Maintenance.
Good Property Maintenance Business Names:
Quick Fix Group.
Fix Masters.
Repairman on the Go.
Friendly Fixer.
Neat House Care.
Confident Repair and Maintenance Names:
Affordable Fixer.
Homeservice.
Perfect Home Plus.
EconoTech House.
Excel Home Repair.
FAQs:
Should I name my home repair business after myself?
Naming a home repair or handyman business after yourself is a common choice but is unlikely to make you stand out from competitors. Being a little more creative when naming your business can give you a competitive edge and help you attract more customers.
How do I choose a home repair business name?
Making a final decision can be difficult. Use our business name generator to come up with creative names, then ask potential customers to give feedback on your name ideas. Give it a couple of days to see if a name grows on you and check availability to make sure you can really own it.