Holiday Decorating Service Business Name Ideas:
| Rank | Business Name | Description |
| --- | --- | --- |
| 1. | Christmas Reminiscing | Suggests that the business can recreate special moments from the past. |
| 2. | Festive Elves | A playful name that hints at the business's expertise. |
| 3. | Merry and Bright | Screams "Christmas" without needing to say the word. |
| 4. | The Christmas Fairy | Suitable for a person (or group of people) who is able to create spectacular transformations. |
| 5. | Festive Memories | Ideal for a company that can help clients create memories that will last a lifetime. |
| 6. | Lavishly Holiday | Suggests opulence and professionalism. Not restricted to Christmas decorating services. |
| 7. | Festive Lights and Linen | For businesses that offer more than just twinkle lights. Alliteration serves as a mnemonic device. |
| 8. | Never-Ending Christmas | Ideal for those who work year-round, and/or those whose creations are meant to last for months. |
| 9. | Oh Christmas Tree | A slightly modified excerpt from a popular Christmas carol. The "Oh" suggests a pleasant surprise. |
| 10. | Festive Cheer | Precisely what you'll be creating by rendering your decorating services. |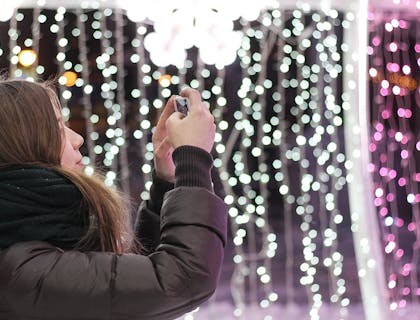 More Holiday Decorating Service Business Name Ideas:
Unique Holiday Decorating Service Business Names:
The Decorated Look.
The Holiday Garland.
Decorations by Lynn.
Christmas Fantasy.
The Holiday Magician.
Memorable Holiday Decorating Company Names:
Duchess Decorations.
Christmas on Call.
Decorate Me Modern.
My Holiday Spirit.
Decor a Wish.
Cool Names for a Holiday Decorating Business:
Plum Decorating.
Specialty Occasions.
Decorating My Party.
Divinity in Decor.
Decorating Heaven.
Fun Christmas Decorating Business Names:
Garland Gallery.
Tis the Tinsel.
Lavish Lights.
Merry Ornaments.
Elite Holiday Design.
FAQs:
How do I come up with a holiday decorating service business name?
Consider your target market and what message you want your business name to convey.
Research your competitors' business names.
Identify keywords that best describe your business.
Use a business name generator for inspiration.
Ask trusted peers for feedback.
Check name availability with the state.
What are some real-life names of holiday decorating companies?
Magic Holiday Designs.
Santa's Little Helper.
Chigaco Christmas Installers.
Ambius.
The Christmas Guys.