Fabrication Business Name Ideas:
| Rank | Business Name | Description |
| --- | --- | --- |
| 1. | Craft Heat & Hammer | This business name idea spells out exactly what your business does: you heat up metals and hammer them to craft metal works for industrial or artistic use. |
| 2. | The Woodwork Haven | A beautiful name idea for a wood fabrication business that makes beautiful wood furniture. This name idea could also work for a lumber mill that produces top-quality wood ready for fabrication. |
| 3. | A Fabricatory Story | The rhyming quality of this name idea makes it catchy and memorable, ensuring that customers will remember your business. It can work for any type of fabrication business, perhaps with a descriptive logo to show the type of fabrication you specialize in. |
| 4. | Steel City Joinery | A great name for a metal fabrication business. This idea draws inspiration from a common metal used in fabrication and a type of work done in a fabrication business. |
| 5. | The Timber Kiln | This name idea is inspired by an important piece of machinery used in wood fabrication. A timber kiln is used to dry out wood to prepare it for the fabrication process, making the perfect name idea for a wood mill. |
| 6. | Crafts 2 Burn | A more unusual name idea for a fabrication business. This name references the welding or plasma burning used in metal fabrication to cut through metals such as steel, aluminium, copper, and brass. |
| 7. | A Fabricated Effect | A fun name idea that promotes the end result of the fabrication process. Whether you run a metal, wood, or plastic fabrication business, this name will work for you. |
| 8. | The Industrial Side | This professional name idea draws on the industrial workings of a fabrication business. It works well for a business that specializes in the fabrication of materials used for construction or manufacturing. |
| 9. | Chemic Mining | A cool name idea for a plastic fabrication business. This name is inspired by the chemicals used in plastic manufacturing, as well as the mining of those chemicals. Use this business name with the logo of an atom for a professional, scientific appeal. |
| 10. | The Metal Tap | This business name is evocative of the ringing sound of hammers on metal that would be heard in the workshop of a metal fabrication business. This name tells customers exactly what you do in a unique and creative way. |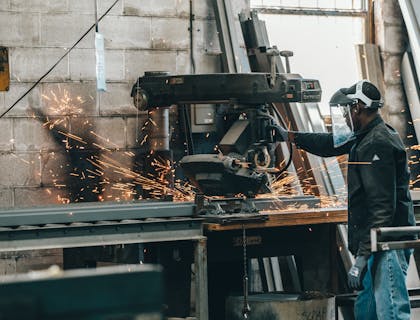 More Fabrication Business Name Ideas:
Unique Fabrication Business Names:
SunSteel Creations.
FuseFabrics.
The Steel Stitch.
WoodForge.
PowerFix Metals.
Cool Fabrication Shop Names:
The Welding Factor.
Dynamite Steel.
Toolworx.
FlexAssembler.
MetalIron X.
Great Fabrication Company Names:
Chemical Art Co.
The Metalsmiths' Toolbox.
All Craft Welding.
Sculpt Fabricators.
Knockout Machining.
Best Fabrication Company Names:
Alchemy Refined.
Wright Craft Metal.
Wired Construct.
GloveSteel.
Carve-O-Wood.
Good Steel Fabrication Business Names:
The Steel Estate.
ProManufacture.
Metal Blaze.
Topaz&Steel.
ProTech Forging.
Welding And Fabrication Business Names:
Metal4U.
Crafty Fusions.
Iron 'n' Wood.
The Weldcrafters.
Forge & Weld.
FAQs:
How do I find a name for my fabrication company?
Review your business plan and note down relevant keywords.
Consider the type of fabrication you specialize in and add related words to your list.
Research your top competitors for inspiration.
Run all of your keywords through a business name generator.
Shortlist your favorite names and ask friends and family for feedback.
Check availability for your favorite name and secure it.
What are some existing fabrication company names?
Anchor Fabrication.
Ironform.
Major Tool & Machine.
Steel Craft Corp.
Nu-Way Industries Inc.