Dormitory Housing Name Ideas:
| Rank | Business Name | Description |
| --- | --- | --- |
| 1. | Fair Athena | With Athena being the Greek goddess of wisdom, this name idea gives a subtle nod to Greek row. |
| 2. | The Studious Nest | A cute name idea for dormitory housing that promotes education and study. |
| 3. | Peace Estate | Help students find peace from the hardships of student life with this cool name idea. |
| 4. | Academic Deck | This creative name idea would suit dormitory housing for a naval school. |
| 5. | The Study Den | Invoke images of a cozy, quiet, and private space with this inviting name idea. |
| 6. | Academic Rise | Encourage students to make the most of their education and opportunities with this great name. |
| 7. | The College Spot | A trendy name idea that invites relaxation, conversation, and fun hangouts. |
| 8. | Freedom Hall | This great name idea has a variety of interpretations for creative slogan design opportunities! |
| 9. | The Study Hamlet | Invoke images of a peaceful little village with this catchy name idea. |
| 10. | The Student Base | Offer students a base of operations with this cool name idea for dormitory housing. |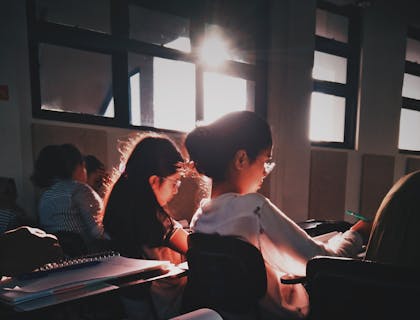 Find the perfect name for your educational service and get more students to sign up.
Dormitory Housing Name Ideas:
Good Dormitory Housing Names:
The Dorm Finder.
Bunkhouse.
Hello, Dorm.
Xtreme Residence.
The Academic House.
Clever Dormitory Housing Names:
Dormitory 360.
RentalRes.
The Dormitive.
Greek Creek.
The College Annex.
Catchy Dormitory Housing Names:
My Campus Cottages.
Cozy Campus.
Alpha Annex.
The Boys Block.
Student Studio.
Inventive Dormitory Names:
Moorax.
The Eden.
Greek Towers.
The Greenhill Rental.
Old Mill Suites.
Great Dormitory Housing Names:
Newtown Suites.
My Greek Room.
The Student Suites.
Red Rooms.
The Raven Residence.
Fantasy Dorm Names:
The Mage's.
Olympus Commons.
Maven Haven.
Spartan Hall.
The King's Door.
Funny Dorm Room Names:
Homesick Oasis.
The Temple.
Kerbside Inn.
The New Base.
Dorm Form.
FAQs:
How do I choose a dormitory housing name?
Review your business plan and compile a list of keywords.
Research the market and your competition and add related keywords to your list.
Combine your keywords using a business name generator to get a list of names.
Shortlist your favorite names and check their availability.
Ask for feedback on your top available choices.
Is there a dorm name generator?
You can use NameSnack to generate dozens of dorm name ideas. Have a look at a few examples we created using NameSnack.
What are some existing dormitory housing names?
University Tower Apartments.
Self Residence Hall.
Eighth Street Apartments.
Haynie Hall.
University Village Peregrine Hall.