Coffee Roastery Business Name Ideas:
| Rank | Business Name | Description |
| --- | --- | --- |
| 1. | Java Juncture | Where friends, family, and coworkers can meet over a cup of coffee. |
| 2. | Pause Roastery | The perfect spot to take a breath during an otherwise busy day. |
| 3. | Gourmet Klatch | Ideal for a sophisticated but informal coffee roastery. |
| 4. | Java Genics | Sounds scientific, which hints at carefully formulated beverages. Alliteration aids memorability. |
| 5. | Farmstead Brew | Suitable for a rustic, homely store — preferably one that's surrounded by lots of greenery. |
| 6. | Unfiltered Cup | For an unpretentious store that encourages meaningful connections. |
| 7. | Dusk Café | Hints at a warm and inviting atmosphere. |
| 8. | Tempean Brew | Ideal for a coffee roastery that has strong Greek roots. |
| 9. | Pine Table | An unusual but memorable name that's suggestive of gatherings. |
| 10. | Ultra Java | For a spot that serves consistently good coffee. |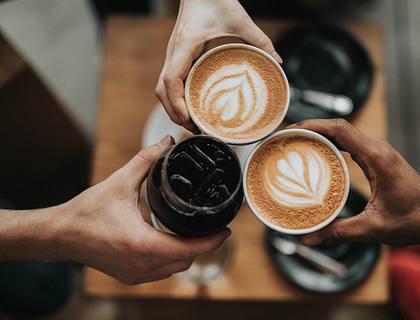 Starting a coffee shop? Get going with our detailed guide and info on fees, costs, requirements, licenses, formation, marketing, and hiring.
FAQs:
What are some unique coffee roastery names?
Java Juncture.
Pause Roastery.
Gourmet Klatch.
Java Genics.
Farmstead Brew.
Unfiltered Cup.
Dusk Café.
Tempean Brew.
Where can I find a coffee roastery business name generator?
Try NameSnack, which will generate thousands of unique ideas for free. You'll be asked to enter at least one relevant keyword, as well as a short business description (the latter is optional). You could also indicate which of the NameSnack-suggested keywords you'd like included in the name generation process and the type of business under consideration.
What are some catchy coffee roastery names?
Roastery Nest.
Java Hush.
Drip Tempo.
Finest Roastery.
Soldier Café.
Ultra Java.
Unfiltered Beans.
Roastery Jar.
How do I choose a coffee roastery business name?
Consider your brand and target market.
Identify keywords that best describe your brand and feed them to a business name generator.
Ask potential customers for their input.
Find an option that is catchy, reflective of your business's identity, as well as easy to spell and pronounce.
Check the name availability.
Choose a name.
What are some cool coffee roastery names?
Pause Café.
Java Rising.
Roastery Mill.
Joe Junction.
Milky Coffee.
Steam Café.
Roastery Drip.
Pine Table.