Christmas Tree Business Name Ideas:
| Rank | Business Name | Description |
| --- | --- | --- |
| 1. | Santa's Joy | A fun, merry name idea for a Christmas tree business. |
| 2. | Decorate Happiness | Give your customers a symbol of hope and happiness with this fun name idea. |
| 3. | Enchanted Hope | Show your customers the magical side of Christmas with this beautiful name idea. |
| 4. | Cheerful Pine | A fun, silly name that offers a variety of cute and funny logo design options. |
| 5. | The Merry Mistletoe | Alliteration makes this a memorable name that is sure to attract many happy customers. |
| 6. | Star Christmas | Let your trees be the star of everyone's Christmas with this great name idea. |
| 7. | Go Classic | A Christmas tree is a classic tradition for the Christmas season, so invite customers to take part! |
| 8. | Beautifully Christmas | Invite customers to enjoy the sight of a beautifully decorated Christmas tree with this merry name. |
| 9. | The Cheerful Forest | This frivolous name evokes images of a forest full of happy Christmas trees! |
| 10. | Celebrate, Decorate! | A fun name that uses a rhyming rhythm to make it memorable. |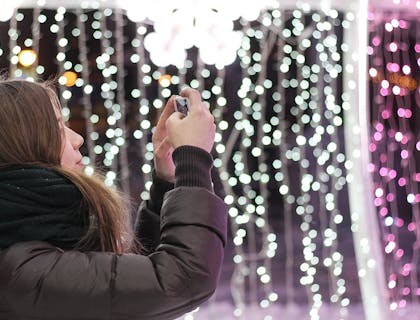 More Christmas Tree Business Name Ideas:
Catchy Christmas Tree Company Names:
Red Tree Shoppe.
Santa's Lane.
Green Holiday.
Snow & Pines.
Santa's Tree Service.
Cool Christmas Tree Farm Names:
Santa's Treasures.
Festive Elves.
The Christmas Parlor.
Tree Villa.
Jolly Christmas.
Creative Christmas Tree Business Names:
Green Christmas Carols.
Festive Forest.
Treehouse Christmas.
Santa on the Hill.
Pine Wonderland.
Silly Christmas Tree Business Names:
Christmas Lights On.
Elfing the Pines.
Oh Christmas Tree.
The Little Tree Elf.
Christmas Hooray.
FAQs:
How do I choose a name for my Christmas tree business?
Review your business plan as well as the Christmas tree industry and create a list of related keywords.
Combine your keywords or run them through a business name generator to create name ideas.
Check domain, state, and trademark availability for your favorite name ideas.
Google your top choices to check for negative associations.
Ask for feedback,
Secure the name.
What is a good Christmas tree business name?
A good Christmas tree business name will embody your brand's core values and convey the cheerful experience that comes with buying a Christmas tree for the holidays. Take a look at our list of examples for inspiration.
What are some real-life Christmas tree business names?
Fairview Tree Farm.
Moose Apple Christmas Tree Farm.
Santa's Christmas Tree Forest.
Evergreen Christmas Tree Farm.
Wonderland Christmas Tree Farm.
Grandma Buddy's Christmas Tree Farm.