Career Counseling Business Name Ideas:
| Rank | Business Name | Description |
| --- | --- | --- |
| 1. | Career Cheq | "Cheq" refers to a review process. It is also short for "cheque," an alternate spelling of "check." |
| 2. | Forging Your Way | "Your" reflects the personalized support that clients will receive in finding their unique careers. |
| 3. | Career Clinic | An informative name that isn't too on the nose. Alliteration serves as a mnemonic device. |
| 4. | Leaping In | A spin on "leaning in." Ideal for a counseling business that helps clients to take calculated risks. |
| 5. | Getting Grounded | Suggests stability and purpose — precisely what many will be seeking. Note the use of alliteration. |
| 6. | Path Cheq | A simple name that's made unique by the spelling of "Cheq." Alludes to the nature of the business. |
| 7. | Find Your Purpose | Straightforward and compelling. Suitable for many uses. |
| 8. | Gentle Blooming | For a business that offers hands-on support throughout. Could work for a multidisciplinary team. |
| 9. | Uncover Your Calling | An informative name that doubles as a call to action. |
| 10. | Career Drop | Appeals to established professionals looking to make major changes to their career trajectories. |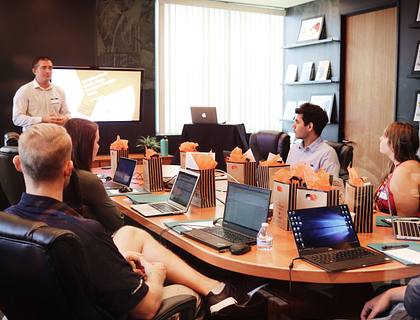 FAQs:
What is a good name for a counseling business?
The Mindfulness Corner.
Mind Retreat.
Staying the Path.
Leaning In.
Getting Grounded.
Mind/Body Clinic.
Therapist Talk.
The Mindfulness Clinic.
What should I name my coaching business?
Forging Your Way.
Balanced Bloomer.
Mindset Pruning.
Only Humanistic (a play on "only human" that references humanistic therapy).
Unlearning Corner.
Wholesome Parenting.
Me But Better.
Gentle Blooming.
What are some catchy names for a career development business?
Career Cheq.
Forging Your Way.
Career Clinic.
Leaping In.
Getting Grounded.
Path Cheq.
Uncover Your Calling.
Career Drop.
Where can I find a career counseling business name generator?
Try a business names generator like NameSnack — a free tool that can generate thousands of name ideas. You'll need to provide one or more relevant keywords. Thereafter, you can provide a short business description, select which of the NameSnack-suggested keywords you'd like included in the name generation process, and identify your type of business.
What are some unique counseling names?
Rested Minds.
Leaping Forth.
Full Hearts.
Curve Center.
Therapy Sprung.
Gentle Unlearning.
Journey Companion.
Fulfillment Starts Here.