Adult Education Business Name Ideas:
| Rank | Business Name | Description |
| --- | --- | --- |
| 1. | Trainingscape | Play on "training" and "escape." Suggests one may find peace and escape through ongoing learning. |
| 2. | Trainingful | Play on "training" and "meaningful." Implies thought has gone into these adult training courses. |
| 3. | Prepare Programme | A catchy name. Suggests these programs will teach adults valuable skills that prepare them for life. |
| 4. | The Training Key | A name with an air of mystery. Suggests that important secrets to learning will be discovered. |
| 5. | Training Arc | "Arc" may suggest adults are coming full circle and completing their education with this program. |
| 6. | Training Click | A good name for a business offering online adult training courses. "Click" suggests convenience. |
| 7. | Programme Port | Alliteration of "p" makes for a memorable name. "Port" suggests students are going on a journey. |
| 8. | Programme Spot | "Spot" implies this is the place to be for lifelong learners. Encourages students to book a "spot." |
| 9. | The Adult Key | "Key" suggests this education program will open up doors to adults who sign up. |
| 10. | Go Adult | Catchy name. Implies students who sign up will keep moving forward. Also a play on "adulting." |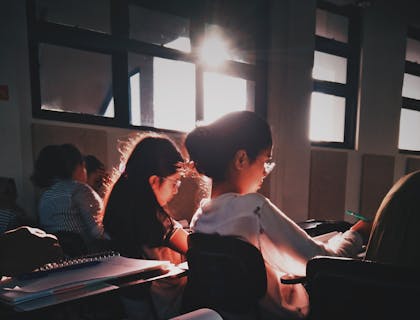 More Education Business Name Ideas:
Unique Adult Education Business Names:
A+ Adult Education.
Back & Learn.
Avant Garde School.
UW Adult Education.
All Things Learn.
Catchy Adult Education Academy Names:
Undercover College.
Academy Method.
The Adult Step.
After 6 Academy.
The Learning Quarters.
Cool Adult Education Center Names:
Omega Knowledge.
The Adult Club Ed.
Infinity Adult Center.
AdVenue Studies.
As Adults Ed.
Creative Adult School Names:
The Stu Dent.
The Big School.
Grown Excellence.
The Dog's Bollocks.
Skill in the Art.
Continuing Education Program Names:
Expert Study Co.
Eden Skills Program.
Adult in Focus.
NovaContinuing.
Program Start.
FAQs:
What are some existing adult education business names?
Coursera.
Apollo Education Group.
Udemy.
Udacity.
Open Culture.
LearnLux.
Codecademy.
Memrise.
How do I choose an adult education business name?
Find out which adult education courses there is a demand for and decide what you'll offer.
Determine whether you need a location, online platform, or both.
Conduct research on adult education business names and use a business name generator to find inspiration.
Brainstorm all possible names and select the best ones.