Security Business Name Ideas:
| Rank | Business Name | Description |
| --- | --- | --- |
| 1. | Shield Lighthouse | A marketable name with loads of logo possibilities. Promises that you'll be a protector and guide. |
| 2. | The Secure Night | This powerful name is made for nighttime security experts trying to attract corporate clients. |
| 3. | Day Guard | Sounds simple but captivating. A suitable name for those who train and supply day security guards. |
| 4. | Siren Secure | The use of alliteration makes this name easy to remember. Could work for a security alarm business. |
| 5. | Blue Light | Uncommon name that cleverly references the blue lights of the police. Great for slogan suggestions. |
| 6. | GoProtect | Punchy, simple, and marketable. Starts with a positive action word that instantly inspires action. |
| 7. | Business Secure | A straightforward name that works well for those who specialize in corporate building security. |
| 8. | Surveillance Secure | This simple name is easy to remember. Could suit those who offer cyber security and surveillance. |
| 9. | Shield Home | "Shield" evokes a sense of professionalism & reliability. Well-suited for a home security business. |
| 10. | Guardian Light | Conjures images of trained experts who leverage modern technology to secure facilities and homes. |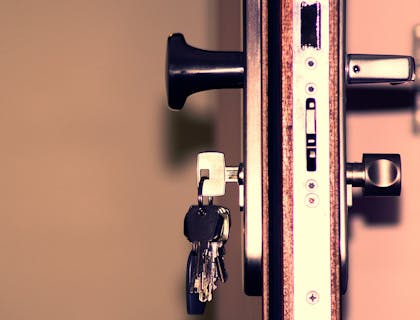 More Security Business Name Ideas:
Funny Security Company Names:
Thief! Defense.
Sound the Alarm.
Live Safe Squad.
Trust Me.
Lock It Up Co.
Cool Security Firm Names:
Sleek Home Security.
Secure Lookouts.
The Security Base.
My Guard Tech.
The Strong Security.
Catchy Security Company Names:
The Secure Sector.
Top Notch Lock.
My Safe Secure.
Emergency Electronic.
Shielded by Nature.
Good Security Company Names:
The Safe Secret.
Green Home Watch.
Sealed Away.
Luxe Protective.
The Protected Place.
Great Security Company Names:
Locksmiths' Choice.
Secular Safe.
My Security Blinds.
Flawless Lock.
Tight Smart Systems.
FAQs:
What should I name my security business?
How do I choose a name for my security business?
Consider your business objectives, marketing strategies, security services, and target market.
Brainstorm keywords that describe your brand.
Feed your ideas into a business name generator.
Use online surveys to obtain feedback.
Perform a name availability search.
Choose a suitable name and register it.
What are some famous security business names?
ADT.
SimpliSafe.
Pango.
GoSecure.
ACADEMI.