Radio Station Business Name Ideas:
| Rank | Business Name | Description |
| --- | --- | --- |
| 1. | The Signal Air | Inspired by radio signals, this name is a marketable gem that is sure to grab listeners' attention. |
| 2. | Blare Station | A striking name that refers to the blare of loud music. Perfect for stations that play rock music. |
| 3. | Talk Sync | This name works best for a radio station that includes informative and newsworthy conversations. |
| 4. | On Radio | A simple but evocative name that's inspired by the "on air" phrase. |
| 5. | Radio Arc | This name effortlessly rolls off the tongue and clearly conveys what your business does. |
| 6. | Talk Dot | A fun play on words that's easy to remember. Ideal name for an online-based radio station. |
| 7. | The Mic Signal | A strong but creative name that refers to both the mic used by radio hosts and the radio signal. |
| 8. | On Mic | This catchy name sounds modern and fresh. Perfect for slogan and logo opportunities. |
| 9. | Air Prime | "Prime" implies that your radio station business only broadcasts the best-quality content. |
| 10. | Overadio | A unique and clever name that brings together the words "over" and "radio." |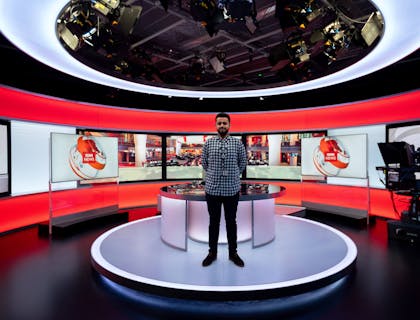 FAQs:
What are some good radio station name ideas?
The Signal Air.
Radio Arc.
The Mic Signal.
On Radio.
What are some cool radio station names?
On Mic.
Talk Sync.
Air Prime.
On Radio.
How do I choose a name for my radio station business?
Brainstorm keywords that describe your radio station.
Review your marketing plan and business mission statement.
Use a business name generator to help inspire new ideas.
Ask your target market and peers for feedback.
Conduct a trademark search.
Perform a state name availability search.
Choose a name and register it with the state.
What are some catchy radio station names?
The Signal Air.
On Mic.
Blare Station.
Overadio.
What are some existing radio station names?
Wild Rock Radio.
Hard Rock Heaven.
AccuRadio.
HardRadio.
KIIS FM.