Key Information
| | |
| --- | --- |
| Legal Name | Maryland Secretary of State |
| Address | 16 Francis St. Annapolis, MD 21401 |
| Email | |
| Telephone | |
| Website | |
How to Do a Maryland Business Search: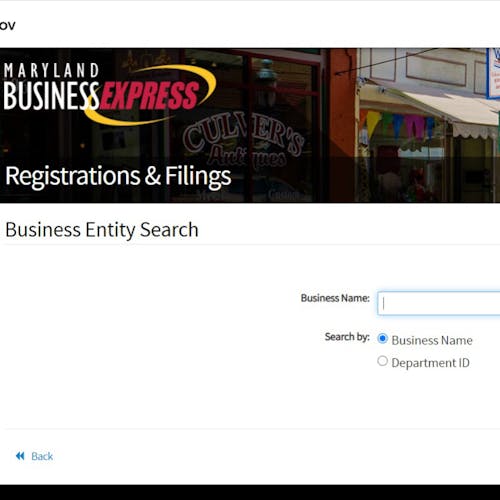 Before you can apply for a name reservation or file formation documents, you will need to ensure that your desired business name is available by performing business entity and trademark searches using the applicable online tools.
1.
Conduct a Maryland business search online.
1.1
Use the Maryland online business search tool.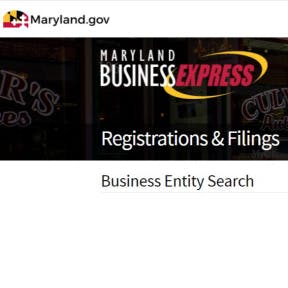 The Maryland Secretary of State (SOS) website offers a business entity search feature that citizens can use to query the availability of their proposed business name.
1.2
Select the "Business Name" option.
The business search tool can perform two types of searches: by "Department ID" and "Business Name." Select the latter option.
1.3
Conduct a name search.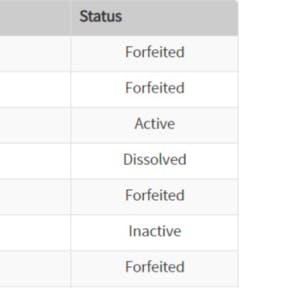 The search tool is rather limited when compared with those of other states. It offers no advanced search filters and no option to search by "exact matches" or "words containing." To remedy this, brainstorm as many variations and spellings of your proposed name as possible. This ensures that similar-sounding names are not omitted from your search.
Nonetheless, there are two ways of conducting a search. The first is to search only your business keyword (for example, "bakery"). This will give you a bird's-eye view of competing businesses in your state and how they've named their businesses.
The second method is to search for your exact business name. A search that yields no results is a good first indicator of availability, but not a final confirmation.
Play around with different variations of your name. Spell it slightly differently, or omit certain words. This ensures that similar-sounding names will surface in your name search.
A search that yields business names with the status "Forfeited," "Dissolved," "Inactive," or "Old Name" is not a definite sign of availability. In most cases, businesses with these status types have a window period in which they are allowed to reinstate their names. To confirm the availability of a name, contact the SOS.
2.
Additional Maryland business search steps.
2.1
Perform trademark searches.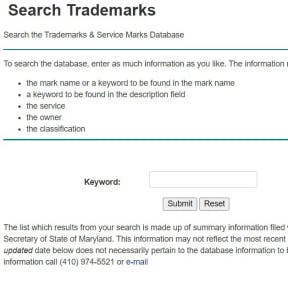 The Maryland trademark database hosts all registered trademarks in the state of Maryland. A business name search that yields no results can still show up in the trademark database query, so you'll want to clear that hurdle.
To access the Maryland Trademarks & Service Marks Database, go to the Maryland SOS website. Click on "Trademarks" under the "SOS Services" column on the left, then "Trademark Search​" on the right of the page. This will take you to the search box on the "Trademarks & Service Marks Database" page.
The final step in searching your business name is to check it against the United States Patent and Trademark Office's (USPTO) trademark database. A name that is free to use in Maryland might be a trademarked name at the federal level, which can lead to legal trouble in the future. You'll want to ensure that your proposed name passes the USPTO database query too.
2.2
Reserve your business name.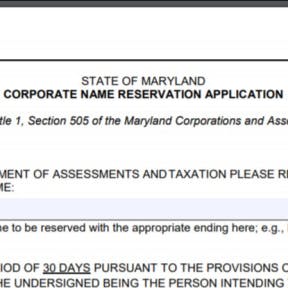 You have the choice of reserving a business name if you've determined its availability but need more time before registering your business. Filling in the Corporate Name Reservation Application form will cost you $25.00 and reserve your name for a period of up to 30 days. An additional fee of $20.00 is charged for expedited service.
Name reservation application forms can be mailed to the following address: 301 W. Preston St., Baltimore, MD 21201-2395. They can also be filed online by creating an account with Maryland Business Express.
Processing time can range from six to eight weeks.
2.3
Search social media platforms.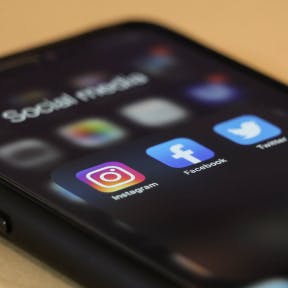 You'll want to ensure that the Facebook, Instagram, and Twitter handles for your proposed name is not taken, for the sake of consistency across your marketing channels. Search your proposed name on these platforms and think of creative alternatives should they already be in use.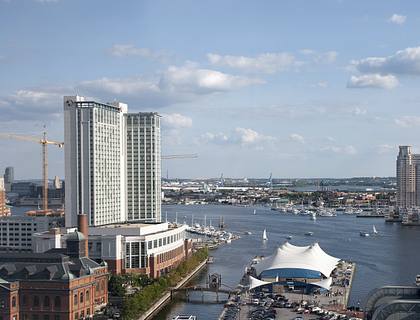 FAQs:
Does it cost anything to do a business search in Maryland?
Searching for a business name in Maryland is entirely free, although it can cost you between $25.00 and $45.00 to reserve a name in the state.
How do I find out if a business name is available in Maryland?
Go to the Maryland website and do a quick business entity search. Follow that up with a search of the state trademark database, as well as the United States Patent and Trademark Office (USPTO) trademark database for existing trademarks at the federal level.
Can you reserve a business name in Maryland?